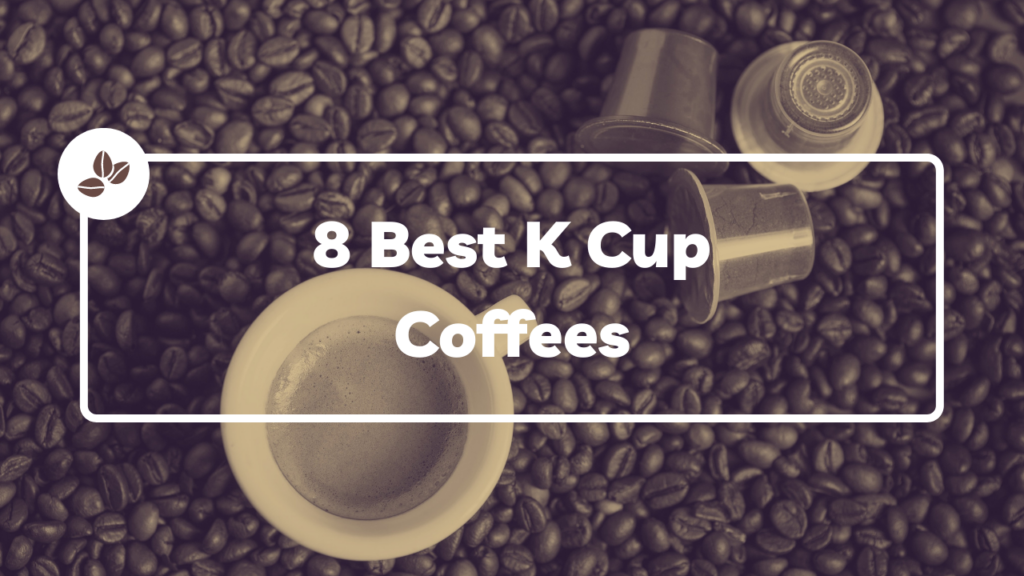 Here is our review on 8 of the best k cup coffees.
K cup coffee is considered to be a 'better alternative' to instant coffee, meaning that it tastes 'averagely good'.
This is why I've listed the best k cup coffees as you really want the highest quality tasting k cups when drinking this type of coffee.
I find that Peet's Coffee K Cup Coffee Variety Pack are the best k cup coffee overall as they are the highest of quality. It's also a variety pack meaning it ranges from light to dark roasts, so that you can decide on your favorite type of roast.
So let's get started:
If this coffee isn't for you then there are plenty of other k cup coffees that are better suited for you. Whether you're on a budget or are all for eco-friendliness, we have it right here.
Our Best K Cup Coffees
8 Best K Cup Coffees Reviewed
Best Overall
What it tastes like:
Variety of high quality flavors
Peet's Coffee K Cup Coffee are arguably the highest quality k cups you can buy. These coffee pods range from light to dark roasts with four varieties including: Cafe Domingo, Colombia Luminosa, House Blend, and Alma de la Tierra.
What makes these k cups taste great is that they are hand roasted overnight in small batches. They are also freshly packed just before being shipped. If you are starting out with k cup coffee and want high quality pods, then these are the best overall k cups for you.
---
---
Best Breakfast Blend
What it tastes like:
Bold and full-bodied
Sweet nutty flavor
Notes of citrus
Green Mountain Breakfast Blend is the best k cup coffee if you are into breakfast blend coffee. This k cup coffee is lightly roasted and is 100% Arabica which gives this coffee that light and bright tasting flavor.
It is bold and full-bodied with a sweet nutty flavor and has notes of citrus giving you that silky mouthfeel. Green Mountain Coffee also ensures that their k cups are 100% recyclable. They also strive to help fund farmers for cleaner access to water as well as growing new coffee trees.
---
---
Best Organic
What it tastes like:
Full-bodied coffee
Sweet fruity flavor
Notes of sweet berry and dark chocolate
San Francisco Bay Organic Rainforest Blend is by the far the best organic/eco-friendly k cup coffee on this list. Did you know that everytime you purchase this k cup coffee, you will help SF Bay Coffee fund and support local coffee farmers.
You can help support farmers with their businesses, medical care, schooling and improved housing. Let's not forget that this k cup coffee also tastes tropical with its sweet, fruity flavor and notes of sweet berry and dark chocolate.
---
---
Best Budget
What it tastes like:
Rich and non-bitter taste
Bright and bold flavor
Notes of caramel and cocoa
Gevalia Colombian k cup coffee is the best k cup coffee if you are on a budget which still has a rich and complex taste. This Swedish coffee is sourced from the high mountains of Columbia and is 100% Arabica which gives it that rich and bright flavor.
The k cups are a medium roast and you'll notice that it has distinct notes of sweet caramel and cocoa. Gevalia Coffee is one of the most popular k cup coffees in Sweden and are way less expensive compared to other top brands.
---
---
Best Decaf
What it tastes like:
Balanced and smooth taste
Caramel flavor
Notes of chocolate and caramel
Illy Classico Decaf is the best k cup coffee for people who are not a fan of caffeine. The Illy Classico Decaf coffee has under 0.05% caffeine and has the same rich, balanced taste as a regular cup of coffee.
It's medium roasted with a caramel flavor and has notes of chocolate and caramel. This type of coffee is perfect for drinks such as a cappuccino and latte as they are composed of the finest Arabica coffee in the world.
---
---
Best Dark Roast
What it tastes like:
Rich and full-bodied taste
Smoky and spicy flavor
Notes of chocolate
Peet's Coffee is one of the leading k cup coffee brands and has the best k cup coffee dark roast you can buy. Peet's Coffee Dark Roast has a rich and full-bodied taste and has a smoky yet spicy flavor with notes of chocolate. These k cup coffees are 100% Arabica which is perfect for making espressos and is 100% Kosher.
---
---
Best Light Roast
What it tastes like:
Cheery floral overtones
Fruity and sweet flavor
Notes of nut and sweet caramel
One of the best k cup coffees to start your morning is the lightly roasted Caribou Coffee Daybreak Morning Blend. This coffee is sourced and blended from both Central America and East Africa having a rich and full-bodied taste.
It has a sweet and fruity flavor with notes of nuts and sweet caramel. Caribou Coffee is environmentally friendly and is one of the first US majors to be 100% Rainforest Alliance Certified.
---
---
Best Variety
What it tastes like:
Variety of brands and flavors
If you want to be adventurous or just starting out with k cup coffee then the variety pack is by far the best k cup coffee to buy. The brands included in this pack are brands such as Starbucks, Green Mountain Coffee, and Eight O'Clock.
These k cups have roasts from light to dark and a variety of flavors including: French Vanilla, Death by Chocolate, Texas Pecan, Coconut Caramel, Salted Caramel, Caramel Creme, Irish Creme, and more.
---
---
Buyers Guide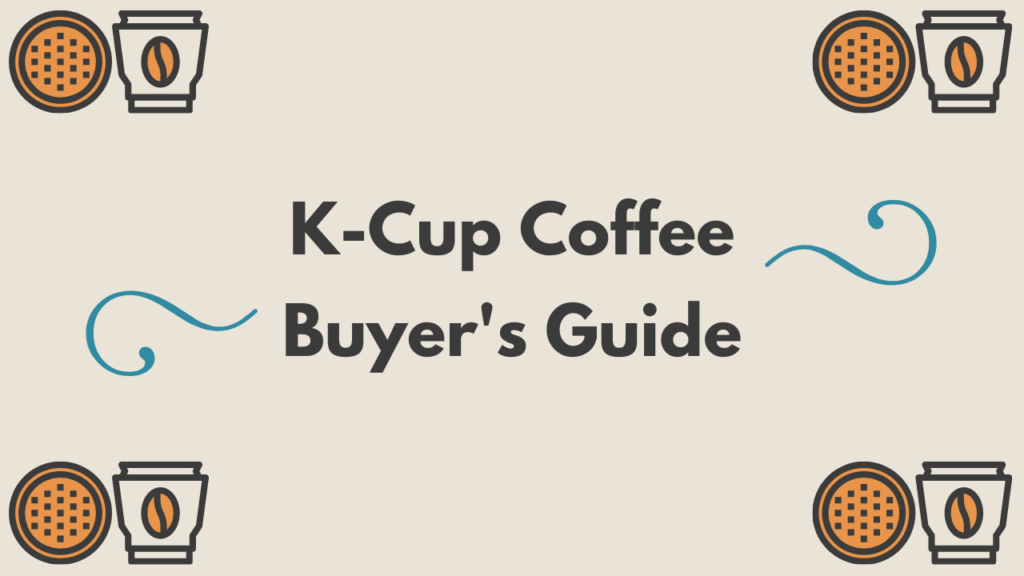 Here is our short buyer's guide on k cup coffee. We have listed its pros, cons, blend types and other aspects:
Pros of K Cup Coffee
Interchangeability
By interchangeability, I mean that you can change from one flavor to another for your next serving. You can make a decaf coffee and then a normal cup of coffee without needing to finish the first batch of espresso beans.
Easier To Clean
Sometimes bean to cup machines can take more time to clean. You have to constantly empty and clean out old coffee grounds but with a Keurig machine, you just have to throw the k cup away.
Instant Brewing Time
Bean to cup machines and coffee makers can sometimes take quite a while to startup which definitely takes some time off your morning. I find that the pod-based machines tend to have vastly quick startup times which is great.
Stays Fresher For Longer
k cups and other types of coffee pods are usually more fresh as the flavors are preserved within the container. Coffee grounds tend to lose their flavor and freshness when you open the bag.
Cons of K Cup Coffee
Can Be Expensive
Although k cups may seem cheaper than a bag of espresso beans, they are actually relatively more expensive. If you had to make the same amount of coffee over time then the k cups price definitely catches up.
Not A Real Espresso
Even though k cup coffee can mimic an espresso, it's not actually a true espresso. When making espresso you have to ensure you tamp, pre-infuse and extract the grounds right. You can look at our article on 5 ways to make an espresso if you are interested in this art.
Minimal Settings
Although machines like Keurig can make a decent cup of coffee or espresso, the majority of machines only have 1 or 2 settings. This can be frustrating if you want to enjoy a flat white or latte.
Blend Types
K cup coffee is usually blended coffee as it is not very common for a k cup to be of single-origin.
Here are a few blend types that k cups come in:
Breakfast Blend: Usually lightly roasted with light acidity and consists of fruity and sweet flavors. These blends originate from regions in South America, Columbia and Brazil.
Mocha-Java Blend: This is known as the world's most original type of blend and has a combination of fruity, earthy and citrus flavors. It is made from both regions of Indonesia and Yemeni.
After-Dinner Blend: This blend is dark roasted and consists of nutty, spicy and chocolate flavors. What's great about after-dinner blends is that they can be often available decaffeinated.
Single-Origin Blend: This type of blend is not actually a "blend". Single-origin blends come from a specific region or country and are usually more expensive. Flavors can range from fruity and sweet to bitter and acidic.
K Cups vs K Pods
There are a few distinct features when it comes to comparing k cups to k pods:
As you know, k cups are usually sealed within a small plastic cup while k pods are sealed in a paper-like filter. K cups have more of a variety and they are more common to find at your local supermarket. Although k cups are more common, K pods are usually less expensive, have more aromatic flavor and are compostable after use.
Quality Buy or Bulk Buy?
When it comes to bulky buying vs quality buying, it really depends on what you want out of a k cup.
If you're not fussed about the overall quality of coffee and just want to buy a bunch of budget-friendly k cups, then by all means go ahead. But if you're like me and the quality of coffee matters a lot, then you will have to buy more premium and expensive k cups.
Frequently Asked Questions
Which k cup has the most caffeine?
According to Keurig, Green Mountain Coffee Double Black Diamond Extra Bold has the most caffeine in its k cup. This k cup has a very dark roast which comes at an eleven out of ten on the darkness scale.
Are k cups reusable?
Yes, k cups can be reusable but not in the way you think they are. Once you have finished using your k cup, you can empty the old grounds and replace them with your own coffee grounds. You will need to find a reusable cover for the k cup and then you can reuse it.
Can k cup coffee go bad?
No, k cup coffee does not expire or "go bad". There usually is a best by date which is not the same as an expiry date. The best by date indicates when the k cup is at its highest quality and after that date, the quality of the coffee grounds will start to degrade over time.
How to use k cup coffee without a machine?
You can use a k cup without a Keurig machine by taking the grounds out of the cup. You'll then have to use those grounds with your coffee maker such as a pour over or french press. You will need to use 2-3 k cups as there are not many grounds in a k cup.
To be completely honest, if you are going to do this, you might as well just go and buy a bag of pre-ground coffee instead. It will save you both time and money.
Can I use k cup coffee as instant coffee?
No, you cannot use k cup coffee as instant coffee. k cup coffee uses actual coffee grounds which are grinded espresso beans. Instant coffee is not pre-ground coffee by any means.
How many espresso beans are used in a k cup?
Since k cup coffee has roughly 2 tablespoons per cup, this equates to 28 grams of coffee. This means that there are approximately 248 beans of coffee per cup.
The Verdict
K-cup coffee can taste great if you're buying k cups that are high quality and are best suited for you.
Peet's Coffee K Cup Variety Pack is the best k cup coffee overall because of its high quality and variety of capsules. You won't regret this choice… seriously.
But if this isn't your personal favorite then make sure to have a look at the other k cup coffees on this list.
If you're not a fan of k cup coffee then make sure to look at our guides on the best espresso beans and the best coffee beans for cold brew.
PS: You can use these K-cup coffees to try out these 108 unique coffee drinks here.