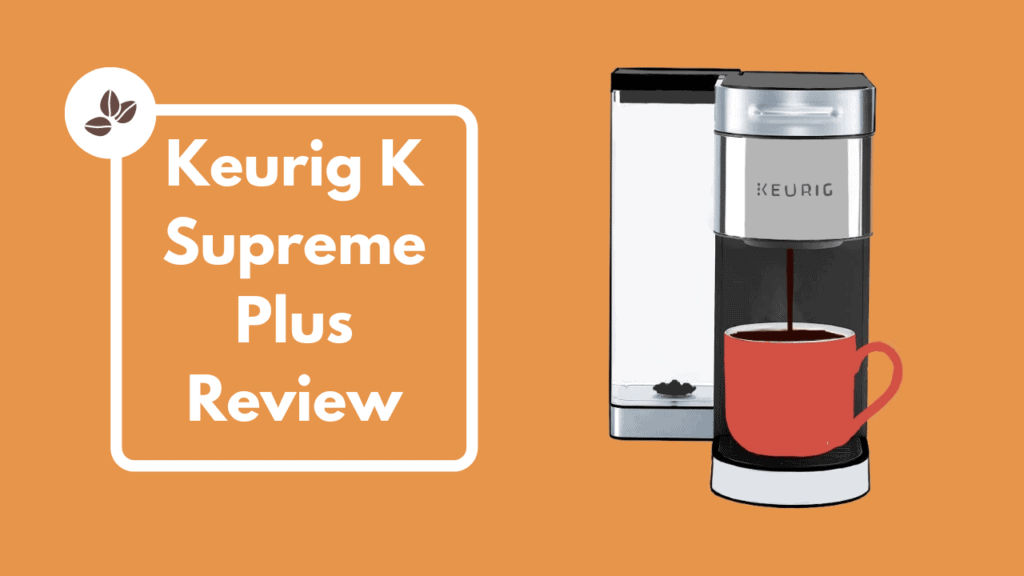 Here is our review on the Keurig K Supreme Plus.
Keurig makes some of the best pod-based coffee machines for home use and has now brought a new innovative product called the Keurig K Supreme Plus.
The Keurig K Supreme Plus is an upgrade from the original Supreme line. It has some additional features to make your coffee taste even better than before.
If you've read this Keurig K Supreme Plus review and feel that it isn't suited for you then make sure to look at its alternatives.
So, let's get started:
Keurig Supreme Plus Overview
The Keurig K Supreme Plus is one of Keurig's most up-to-date and innovative single-serve coffee makers out there. With its minimal and sleek looking design, it offers some cool features. Features include MultiStream Technology, Iced Coffee Function, Adjustable Temperature Control, Adjustable Brewing Strength, and a Digital Display Screen. This is Keurig's upgrade of the original K Supreme and is worth its price by all means.
Who Is The Keurig K Supreme Plus For?
If you are someone who is looking specifically for a premium-end Keurig machine then the Keurig K Supreme Plus is a great coffee maker to choose from. It provides functionalities including individual brewing profiles and adjustable controls for your preference.
But keep reading to see its pros, cons, and alternatives to ensure you make the right buying decision:
Pros
Can Make Iced Coffee: One of the best features of the Keurig Supreme Plus is that it has an iced coffee feature. This function will brew a stronger coffee that can be poured over ice and won't end up tasting watery. This is a perfect feature to use when wanting a coffee on a hot summer's day.
Sleek Design: Some Keurig machines have quite a bulky build which firstly doesn't look premium and secondly, limits your counter space. Both the Keurig Supreme and Supreme Plus have a sleek design and great stainless steel build quality.
Superb Coffee Extraction: The Keurig Supreme Plus has top quality brewing extraction compared to other pod-based machines. This machine has a slower brewing process than normal to be able to brew a stronger extraction which is a must for a quality tasting espresso.
Large Water Reservoir: This Keurig machine has a 78 oz water reservoir that can brew up to 9 cups before needing to be refilled with water. This is actually Keurig's largest manufactured water reservoir ever produced. So if you're looking for a larger reservoir then consider a different brand.
Very Quiet: Keurig has its own "Quiet Brew Technology" which is designed to limit most of that loud brewing noise. This is actually a great feature as a lot of pod-based machines can be very noisy especially after a long time of use.
Cons
Cannot Adjust Water Reservoir: The one frustrating thing about the Keurig Supreme Plus is that you can't adjust the water reservoir. This can sometimes make it difficult when trying to remove the water reservoir if you have your machine placed in a tight space.
Not Suitable For Dishwasher: This con is actually pretty common to most Keurig machines. Keurig advises not to place any of its parts inside the dishwasher unless instructed otherwise. If you plan on placing your water reservoir in the dishwasher then make sure the Keurig manual says so.
Pricier Than K-Supreme: The Keurig Supreme Plus is pricey and more expensive than the Keurig Supreme. However, the Supreme Plus features definitely make up for its price. Although it's 35% more expensive than the Supreme, it has 35% more and better features.
Limited Color Options: If you don't care about color options then this downside shouldn't bother you at all. But if you are interested in a black, white, or red finish then you're unlucky as this machine only comes in a stainless steel finish.
Keurig Supreme Plus Features
Digital Display Screen
The Keurig Supreme Plus is one of the only Keurig machines to have a digital display screen. Although it isn't the fanciest digital display screen, it definitely makes it easier to see which strength and temperature you're on.
Multistream Technology
The Supreme models have technology to improve the aroma and flavor of your coffee called MultiStream Technology. What this does is allow 5 streams of water to flow to the coffee grounds instead of only 1 stream on other Keurig machines. This will help provide an overall better and stronger extract.
Iced Coffee Setting
The Keurig Supreme Plus has an iced coffee feature that brews a stronger cup of coffee to get rid of that watery taste when poured over ice. The Supreme Plus will extract around 6 ounces of coffee per pod when using this feature.
Temperature Control
Temperature plays a major part in producing a well-balanced overall coffee. Unlike most Keurig machines, the Supreme Plus can adjust the temperature of your coffee brew to your liking which is great if you love a hot coffee.
Brewing Sizes
One of the best parts of the Supreme Plus is that it can brew up to 5 servings from 4 ounces to 12 ounces. Many pod-based machines struggle with brewing large cups of coffee while keeping its strong aroma. The brewing size of the Supreme Plus is a great feature to have when you want a full cup of coffee in your travel mug.
Adjustable Brew Strength
Both the Keurig Supreme and Supreme Plus have adjustable brewing strengths but the Supreme Plus takes it up a notch. The Supreme Plus provides up to 3 brew strengths instead of 2. The extra brewing strength is a great feature to have if you're really looking for an extra kick in your coffee.
Cup Compatibility
Both the Keurig Supreme and Supreme Plus have cup compatibility. This allows you to make non coffee beverages such as hot cocoa, tea, chai latte, and even apple cider. You can also use Keurig's Reusable My K Cup Filter meaning that you can place your very own coffee grounds in the filter in case you don't have K cups available.
User Profiles
Having individual profiles for a Keurig machine is great if you have a family that has personal preferences for their coffee. With the Keurig Supreme Plus, you can save up to 3 different brewing profiles. This makes it easy to switch between different amounts or strengths of coffee.
Cleaning And Maintenance
What's great about Keurig machines including the Supreme Plus is that it will remind you to descale your machine after 250 brews. Most people occasionally or never descale their coffee machines. This can cause the coffee to taste watery or bitter, and can take longer to brew than usual.
Alternatives To The Keurig Supreme Plus
Budget Alternative
The Hamilton Beach FlexBrew is by far the best budget alternative coffee maker to the Keurig Supreme Plus. You can use either k-cup pods or the reusable ground basket if you decide to use your own grounds. The Hamilton Beach comes with a pod holder which allows you to hold your single-serve pod for when you decide to use k-cups instead.
The downside to the Hamilton Beach is that it does not have a removable water reservoir and has a maximum capacity of 14 ounces. Another downside is that there is minimal functionality. You cannot adjust the temperature or select a different brewing profile.
Unlike the Supreme Plus, the Hamilton Beach has many detachable parts that are fully dishwasher safe. This makes it a lot easier to clean the machine. If you are someone who wants a single-serve coffee maker that makes decent coffee and is under $100 then this one's for you.
---
---
Premium Alternative
One of the most popular Keurig machines is surprisingly the Keurig K-Cafe Special Edition. It's the most premium-end Keurig machine you can buy on the market today with its dishwasher safe milk frother and multiple beverage options.
The downside to the Keurig K-Cafe is that it does have a large carbon footprint. This can be an issue as it uses more electricity than usual and isn't so eco-friendly. It's also a fairly expensive coffee machine although this is the premium alternative to the Supreme Plus.
What stands out with the Keurig K Cafe is that it's able to make true espresso shots. You can use the K-Cafe's built-in milk frother to make a decent cappuccino. It is better than buying some expensive super-automatic espresso machine if you really want to save money.
---
---
Versatile Alternative
The Nespresso Veruo Plus Deluxe is the Keurig Supreme Plus' biggest competitor. It has a minimal and sleek design with laser technology that reads the pod barcode to determine how it should be made. It can also brew 5 programmable cup sizes and has an impressive heat up time.
The downsides to the Vertuo Plus Deluxe is that it is relatively expensive and you also cannot use k-cups or ground coffee. However, there are 3 different sized Nespresso Vertuo capsules which makes it easier to make and choose from coffee beverages.
Nespresso itself is a great brand to choose from in terms of reliability and durability. If you're looking for a machine that produces a variety of well-blended beverages, then the Nespresso Vertuo Plus Deluxe is a great alternative to the Supreme Plus.
---
---
Frequently Asked Questions
How often should Keurig be descaled?
Pod-based machines like Keurig and Nespresso don't need to be descaled as frequently as a bean to cup type espresso machine. You should only need to be descaling your Keurig machine every 3-6 months of use.
Why Keurig coffee tastes bitter?
There are 2 main reasons why your Keurig coffee may be tasting bitter. The first reason is that you may be using poor quality K-cup coffee so it is important to use high quality k-cups.
The other reason is that you probably haven't cleaned your Keurig machine in a while. I recommend descaling and giving your Keurig a full deep clean. If this doesn't solve the problem then consider taking your machine in for maintenance.
Can Keurig parts go in the dishwasher?
I don't recommend putting any Keurig removable parts inside a dishwasher unless stated otherwise. With some Keurig machines, you can place the water reservoir in the dishwasher but that's pretty much the only dishwasher safe Keurig part.
How much Keurig descaling solution do I use?
It obviously depends on the size of your Keurig water reservoir. The rule of thumb is to place equal amounts of water and descaling solution in the reservoir. So if you have a 60oz water reservoir then place 20oz of descaling solution and 20oz of water.
The Verdict
The Keurig K Supreme Plus is one of the most premium-end Keurig machines you can buy. It has some really cool features and really gives its competitors a run for its money.
With its different coffee sizes, adjustable brew strengths and iced coffee feature, you can pretty much make any type of beverage.
However, if this coffee machine isn't for you then I'm sure one of the above alternatives will be.
---
---