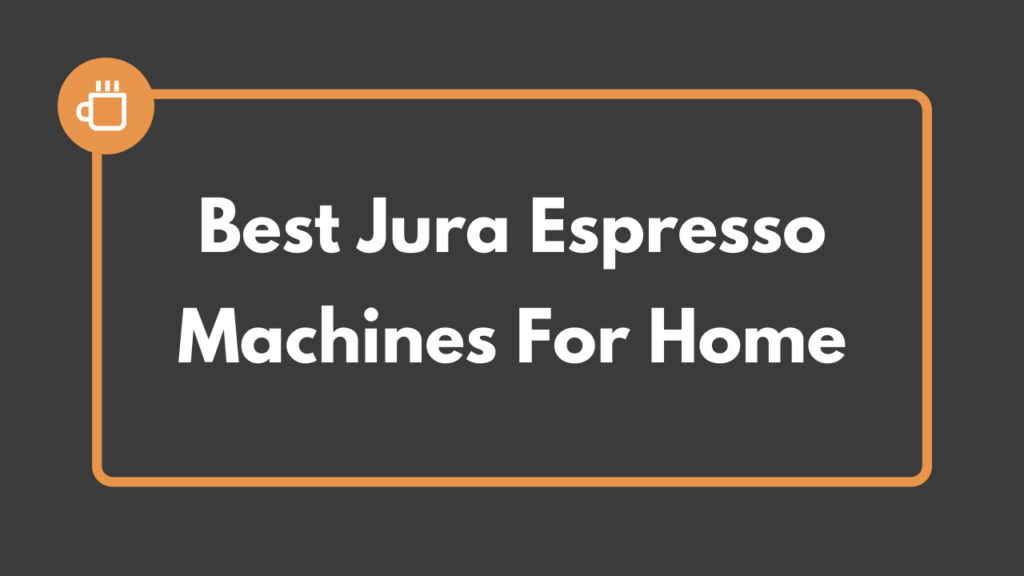 Here is our round-up review on the 5 best Jura espresso machines for home.
Jura is known to be the leading brand of super-automatic espresso machines. However, it does come with a price…
In this review, I will be listing the 5 best Jura espresso machines for home ranging from the best budget to the best premium machine.
I found that the Jura E8 is the best Jura espresso machine for home overall but this may not be the best for you. But I will list these machines' pros, cons, and overview for you to decide which is best for your home.
So, let's get started:
Our 5 Best Jura Espresso Machines
Jura E8 (Best Overall)
Jura D6 (Best Value)
Jura A1 (Best Budget)
Jura ENA 8 (Best Compact)
Jura Z8 (Best Premium)
5 Best Jura Espresso Machines For Home Reviewed
Best Overall
Pros
Can make up to 16 specialty drinks
Intuitive digital display screen
Excellent milk froth quality
Cons
The Jura E8 is arguably the best overall super automatic espresso machine on the market. It comes with all Jura's new and innovative features such as its smart mode, 3D brewing technology, and intelligent preheating.
The Jura E8 can be considered the ideal home super automatic espresso machine although it is quite expensive. By expensive I mean it's $1000 more than the Jura A1 and Jura D6. If you have small counter space in your home/apartment then look at a smaller and more compact Jura espresso machine.
What's great about the Jura E8 is that it brews the best quality espresso out of the bunch and has an excellent milk frothing texture. If you plan on using an espresso machine to brew all types of beverages then a Jura E8 is definitely worth the investment.
---
---
Best Value
Pros
Simple to use
Affordable
High quality milk foam
Cons
Small bean hopper capacity
No digital display
The Jura D6 is considered to be the alternative espresso machine to the Jura E line. Although it may look simple and outdated, it's actually fairly new and aims to be as minimalistic as possible. You can brew your milk-based beverages and also make it easy to adjust the milk foam with its rotatable dial.
The two downsides to the Jura D6 are that it does not have the biggest bean hopper capacity and does not come with a digital display. Some people may have an issue with this but it actually seems to be easier to program beverages with the machines to rotatable dials.
The reason why the Jura D6 is so popular is because of its great value. It brews the same quality espresso and milk foam quality as the Jura E8 but is much more affordable. Yes, you may not get a TFT display but if you want Jura quality beverages then the Jura D6 is a must.
---
---
Best Budget
Pros
Small and compact
Budget friendly
Energy efficient
Cons
Cannot make milk-based beverages
Does not have a digital display
The Jura A1 is the entry-level coffee machine in the Jura line. This means that it'll suit well for any individual that needs a budget-friendly yet premium coffee machine. The reason for getting this machine other than its affordability is because it's also small, compact, and energy-efficient.
The only downside to the Jura A1 is that it does not come with a milk frother. This means you'll need to use a separate milk frother if you want to make milk-based beverages. Most Jura espresso machines come with a digital display which makes it easier to program beverages, however, the Jura A1 does not come with one.
What's great about the Jura A1 is that it also brews amazing espresso shots and regular black coffee. It's an ideal espresso machine when living in a small apartment and is personally a better alternative to a Nespresso machine. If you're an espresso purist then the Jura A1 will suit you better than spending another $1000 on a milk-based espresso machine which you'll never use.
---
---
Best Compact
Pros
Small and compact
Can brew milk based beverages
Intuitive digital display
Cons
Small bean hopper capacity
Small water reservoir
The Jura ENA 8 comes with all the basic functionality you need in an espresso machine. This machine is pricey but affordable at the same time compared to other Jura machines. You are still able to brew milk-based beverages such as your creamy macchiato or famous flat white. The Jura ENA 8 can also accommodate different brewing sizes while managing to have a small carbon footprint.
The downside to the Jura ENA 8 is that it does have a small water reservoir and bean hopper capacity. This means you will have to refill the water reservoir and bean hopper frequently. So if you plan on using the espresso machine a lot for either yourself or family and friends then consider a larger machine.
What I love about the Jura ENA 8 is that it has a TFT display which makes it easy to choose, customize, and program your beverages. If you are looking for a reasonably priced espresso machine that has the same functionality as the Jura E8 then this is a machine to consider.
---
---
Best Premium
Pros
App functionality
Intuitive TFT display
High level of programmability
Cons
Expensive
Might struggle to fit on small counter spaces
The Jura Z8 is the most premium Jura espresso machine you're gonna need for your home. The key feature to this machine that sets it apart from others is being able to control the whole machine through an app on the phone. I also love the fact that you can program the milk texture, milk froth, and coffee strengths with up to 10 levels.
The downside to the Jura Z8 is that it's not the most budget-friendly espresso machine but if you can afford it then it's not a problem at all. Another downside is that you may not be able to fit it on a small kitchen counter space in your home as it is not a compact Jura machine.
The Jura Z8 also has an amazing design with its sleek mirror-like aluminum chrome build that will fit well in your fancy kitchen. The Jura Giga line is a little too extra for a household but the Jura Z line such as the Jura Z8 is a great premium Jura espresso machine to buy.
---
---
Jura Product Line Overview
A Line
The Jura A line is considered to be the compact and minimalistic line of Jura espresso machines. These slim-line one cup espresso machines such as the Jura A1 are perfect for individuals. You may not get milk frothing capabilities but you will have superb brewing quality.
D Line
The Jura D line is designed to be simplistic yet intuitive to use. The D line can be seen as an upgrade to the C line with its new adjustable dial for espresso and milk frothing. Espresso machines like the Jura D6 only require 2 adjustable dials to operate the entire machine. The D line is mostly known for its affordability and consistent brewing quality too.
ENA Line
The Jura ENA line are espresso machines that are designed to be as small and compact as possible. These models vary from brewing espresso to milk frothing capabilities but all are designed to fit on almost any small counter space. The Jura ENA 8 is a great compact alternative to the Jura E8.
E Line
The Jura E line is known to be Jura's most popular and successful range of espresso machines to have in your home. Espresso machines like the Jura E8 come with a large range of functionality from programmability. From customizing your beverages to choosing a range of other specialty drinks, Jura E lines are great considerations.
Z Line
The Jura Z line is one of Jura's newest and innovative range of espresso machines such as the Jura Z8. With its intuitive digital touchscreen such as the Z8, it allows you to choose up to 21 different specialty drinks. The Jura Z lines are always up to date with the latest technologies that Jura provides. This is one of the most premium Jura machines you can buy for your home and are considered luxurious models.
Jura Special Features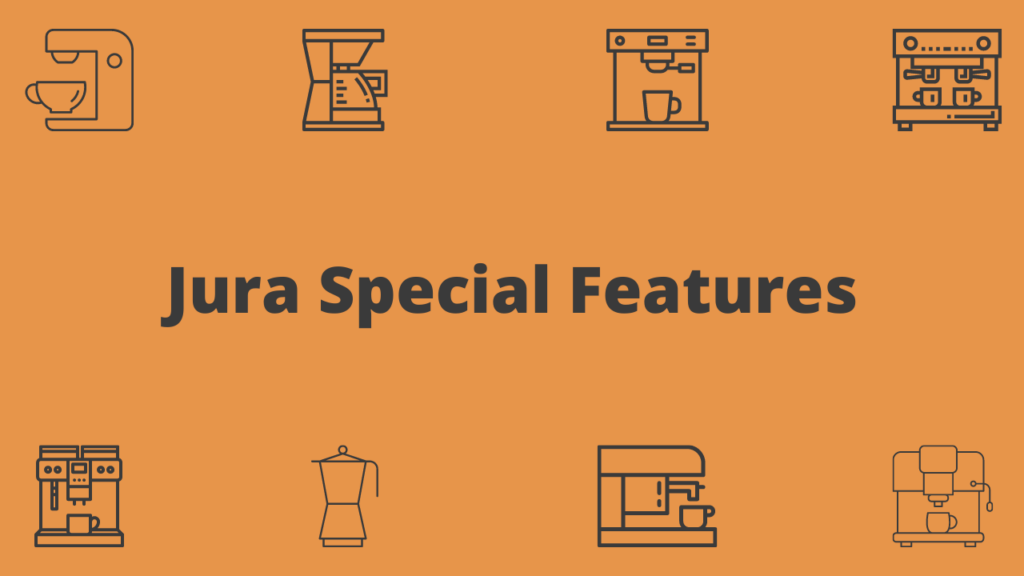 The Aroma+ Grinder
Jura machines are very well known for their quiet and efficient Aroma+ Grinder. What makes this grinder so unique is that it adjusts itself to the exact grind size depending on what beverage you are making.
There are currently 2 different versions of the Aroma+ Grinder: the Aroma G2 and Aroma G3. Both of these versions have multi-level stainless steel conical burr grinders. The difference between the G2 and G3 grinders is that the G3 grinder is newer. This means that it will be able to grind more precisely and efficiently than the G2 grinder.
I.P.B.A.S
IPBAS stands for Intelligent Pre Brew Aroma System. This essentially pre-brews the coffee grounds to bring out their maximum flavor depending on the roast and grind of the coffee beans. Basically, this technology will spray bits of water at a time into the freshly ground coffee. This allows it to bloom properly before the actual brewing process occurs.
P.E.P
PEP stands for Pulse Extraction Process which takes place after the IPBAS process has finished. This technology will ensure that all the coffee grounds have been extracted with the water evenly in order to bring out the best flavor.
Fine Foam Technology
All milk-based Jura machines come with Fine Foam Technology to create professional milk froth quality. This works by frothing your milk twice before pouring it into your coffee beverage.
Intelligent Water SystemⓇ
Jura's Intelligent Water SystemⓇ will indicate when the water reservoir needs to be refilled. It will also let the user know when the CLARIS filter needs to be replaced.
CLARIS Filter System
The Claris Filter System has a bunch of different functions that it does for your Jura machine:
Protect your machine from developing calcium deposits
Ensuring that your machine never needs to be descaled
Keep your water clean and fresh at all times
TFT Display
Most espresso machines have average or poor quality touch screens but Jura comes with its TFT displays which allow for intuitive and responsive touch screens on machines like the Jura Giga line or Jura Z line.
Bypass Doser
The Bypass Doser is a cool feature that Jura has which allows you to bypass your current coffee beans with different coffee beans. This means you can try different coffee bean flavors or even use decaf coffee beans for your next cup of coffee.
Frequently Asked Questions
How to choose a Jura espresso machine?
When choosing a Jura espresso machine, you should consider the counter space that you have in your home and if you need a fancy espresso machine. If you are an espresso purist and don't tend to drink milk-based beverages then a machine like Jura A1 will do the job. However, if you want the fanciest Jura espresso machine then a Jura E8 or Giga 6 will be better suited for you.
How long do Jura machines last?
If you look after your Jura coffee machine, it can last easily for more than a decade or even up to 20 years. If you want your Jura coffee machine to last as long as possible then make sure to descale and clean your machine regularly or as instructed.
How often do you clean a Jura machine?
You should wipe the exteriors of your Jura machine daily as well as empty out the drip tray. You should descale or deep clean your Jura machine at least twice a month to ensure the machine stays in good condition.
Are Jura machines worth it?
Jura machines can be very expensive when comparing it to espresso machines such as Saeco. But you should not see a Jura machine as an expensive machine but rather as an investment. The reason why Jura machines are expensive is that they are built to last for a really long time. You won't require as much servicing as you would with a cheaper coffee brand.
The Verdict
The verdict is that the Jura E8 is the best overall espresso machine. It has a good level of functionality, can brew a range of specialty drinks, and has amazing brewing quality all for its price.
But like I said, it may not be the best Jura espresso machine for you. So make sure to go through each of these Jura machines in order to determine which will suit best for your home.
If these Jura espresso machines are not what you're looking for then make sure to look at our best super automatic espresso machines.