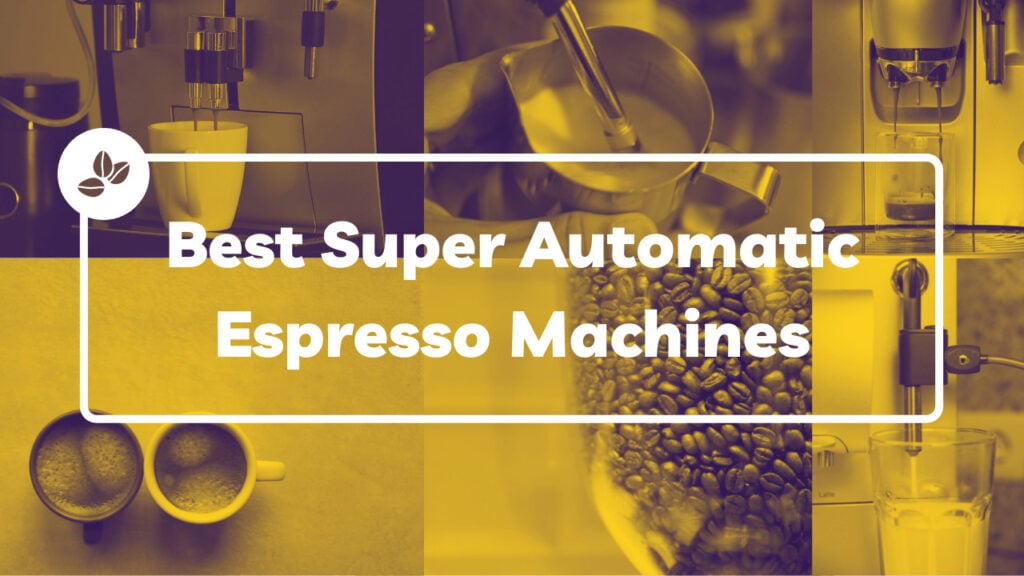 Here is our review on the 7 best super automatic espresso machines.
Most coffee lovers dream of having the fanciest and most expensive super automatic espresso machine but other machines might be better suited for you…
Some people may prefer a simple machine that makes superb quality espressos whilst others may want a machine that makes up to 28 beverages.
I myself thought that I should consider purchasing some fancy machine and found that it isn't best suited for me.
And now, I've applied my experience to researching the best super automatic espresso machines for all people so you can make the best selection for your household.
I reviewed 7 super automatic espresso machines and found the Jura E8 to be the best espresso machine overall.
Let's get started
Our Best Super Automatic Espresso Machines
7 Best Super Automatic Espresso Machines Reviewed
Best for Beginners
Features
6 Preset Specialty Drinks
Commercial-Style Steam Wand
Custom Profile Creation
Bean Hopper Capacity: 10.58 Ounces
Pros
Can create up to 4 custom profiles for each family member
Good level of programmability and customization
Steam wand produces great quality milk
Budget-friendly
Cons
Can be a bit difficult to clean parts
Many parts are plasticy
Water reservoir capacity is fairly small
Can be manual if wanting to frothesize your milk
The Gaggia Cadorna Barista Plus is a must buy if you are completely unfamiliar with super automatic espresso machines. The best feature about this machine is that you can create beverage profiles for each family member. This machine allows each family member to save and create their own beverage settings without anyone else changing up their strength, volume and temperature settings.
The downside about the Barista Plus is that it can sometimes feel not so automatic with its commercial style steam wand. I think this can be considered an upside if you want to make latte art with your milk.
The upside is that it is very simple to use. The machine makes a really good espresso and is the perfect buy if you are a newcomer with a family of 4. Many customers are highly satisfied with this machine and I'm pretty sure you will too.
---
---
Best for Budget
Features
Power: 1400 watts
One Touch Button
Bean Hopper Capacity: 4 Ounces
AromaG3 Grinder: Twice as fast
Pros
Very simple to use
Small and compact
Energy efficient
Budget friendly
Cons
Minimal functionality
No programmability
Only 3 beverage types
Small capacity
The Jura A1 machine is definitely the best entry level machine you can buy. The key feature of this machine has to be its new Pulse Extraction Process system. This helps optimize overall extraction time, forcing hot water through the coffee grounds in short intervals. This machine probably makes better espressos than most machines and is very budget-friendly.
The downside of this machine is that it does not have a milk frothing system. So if you love automatic frothed milk pouring, then I suggest picking another machine.
The upside about this machine is that it's a budget espresso machine that produces superb tasting coffee. If you're a 'coffee purist' like me then this machine is a great deal. It brews both a fantastic espresso and ristretto that you won't regret. If you love milk in your coffee or have a family that drinks coffee regularly, then don't buy this. But if you don't plan on drinking a heck load of coffee and are on a budget, then buy it!
---
---
Best for Offices
Features
28 Preset Specialty Drinks
4.3 Inch Touch Screen Display
2 Ceramic Disk Grinders
Blue Crystal Rotary Dial
Pros
Temperature regulation from its chrome vents
Can brew 2 specialty drinks at once
Very high level of programmability and customization
Set coffee brew, milk and milk frothing temperatures
Cons
Very large in size
Very expensive
Sensitive touch screen
The Jura Giga 6 is considered a super premium machine being Jura's best of the best espresso machine. The key feature of this machine is its immense level of programmability. With its huge 4.3 inch touch screen, you can customize each and every one of the 28 specialty drinks. The best part of the Giga 6 is that it has artificial intelligence which learns your personal preferences and displays your favorite beverages from its self-learning algorithm.
The downside to this machine is that it is ridiculously expensive for personal use. I personally don't suggest buying this product for your home if you are not using it regularly and drinking each of the 28 specialty drinks. I do suggest buying this machine if you have staff who love their coffee at the office.
The upside to this machine is that it is everything you could wish for in a super automatic espresso machine. I'd say this is hands down the best overall machine but the price is similar to a second hand car. I think this is a great investment for a small office otherwise consider a more budget-friendly machine.
---
---
Best for Iced Coffee
Features
Bean Hopper Capacity: 10.5 Ounces
Water Tank Capacity: 60 Ounces
Dishwasher Safe Drip Tray
One Touch Button
Pros
Delivers full-bodied iced coffee
Easy to clean
Quick heat up time
Grinds quitely compared to most machines
Cons
Low programmability and customization
Can only make a few drinks
Doesn't come with milk carafe
Requires regular descaling
The Delonghi Dinamica is known for its simplicity and being able to brew super hot beverages that many machines fail to do. The key feature of this machine is that it has its own iced coffee brewing setting. I myself love a refreshing black coffee and it is a great feature to have for a hot summer's day!
The downside of this machine is that it does not contain a milk carafe. That means you have to go and purchase your own milk carafe unfortunately. In all fairness, the Dinamica is more on the budget friendly side, so spending a bit of cash on a nice milk carafe won't make the overall price too expensive.
The upside of this machine is that it's budget-friendly compared to other espresso machines. In fact, it's only about 100 dollars more expensive than the Jura A1. I recommend buying this machine if you're not fussed about having a milk frother and love iced black coffee like me.
---
---
Best for Design
Features
2.8 Inch TFT Color Display Screen
10 Preset Specialty Drinks
Bean Hopper Capacity: 4.4 Ounces
Clearyl Smart Water Filtration System
Pros
Eco friendly
Beautiful sleek design
High level of programmability
Compact design
Cons
Expensive
Cleaning the machine can be time consuming
User manual instructions are not clear
Difficult to access the power switch
The Jura ENA 8 has been an award winning espresso machine for its sleek premium design. It has great functionality as well as being fully customizable too. The key feature of the ENA 8 is that it can automatically switch the order of the milk preparation depending on the type of beverage you make. This is great for switching between cappuccinos and lattes.
The downside to this machine is that it is relatively expensive compared to other machines. A few customers have also complained about the power switch being difficult to access too. It's not too big of an issue but the beautiful crystal looking water reservoir makes up for that.
The upside is that the overall functionality and exquisite design will outweigh its downside. I think this is the perfect machine for showing off to guests with the design and wide variety of beverages. It has most of Jura's special features but with a price bump due to its design.
---
---
Best for Value
Features
One Touch Button
Detachable Milk Carafe
Bypass Doser for Pre-Ground Coffee
Bean Hopper Capacity: 8.8 Ounces
Pros
Highly reliable
Simple to use
Budget friendly
Small and compact design
Cons
Can only make 4 different specialty drinks
Foam quality isn't as good as other premium machines
Doesn't produce super hot beverages
Water reservoir capacity is relatively small
The Gaggia Anima Prestige is definitely the best value for your money. There are many small features that all come together to show its true value. The Anima is well known for its high reliability which is great for reducing maintenance costs as well as its small energy consumption.
The downside of the machine is unfortunately it's small range of specialty drinks. But if you're someone who wants a reliable, easy to use machine that doesn't need a bunch of fancy specialty drinks, then this is a great espresso machine to buy.
The upside of the Anima is that it's one of the only machines in its price range that can produce milk based beverages and has one touch capabilities. What's also great about this machine is that it's super reliable and manages to hold its value for the long run.
---
---
Best Overall
Features
Bean Hopper Capacity: 9.9 Ounces
16 Preset Specialty Drinks
Clearyl Smart Water Filtration System
Six Level Aroma
Power: 1450 watts
Pros
Highly customizable drinks
App-based to optimize convenience
No need to ever descale
Milk frother tuner
Cons
Expensive
Can be big in size
Grinder can be noisy
The Jura E8 is by far the best espresso machine overall. The quality of the coffee this machine produces with its cool features definitely weighs out the price. Besides Jura's Pulse Extraction Process Technology and AromaG3 grinder, the key feature of this machine is its CLEARYL Smart Water System technology. This water filtration system is able to remove minerals from the water, meaning that you probably won't have to ever descale this machine.
The downside to this machine is that it's obviously fairly expensive for the average consumer. If you are on a budget, then the Jura E8 might be tinge expensive but it's definitely worth the investment.
The upside is that it produces superb quality coffees, being able to make up to 12 specialty coffees. If you're someone who wants a machine that will make pretty much every type of drink, then the Jura E8 is the way to go. I promise you will not regret it ?
---
---
Buyers Guide
It's important to make sure you buy the most suitable espresso machine for your home. When reading through our buyer's guide, there will be some sections that matter to you including pricing, features, maintenance, and your espresso drink type.
Anatomy of Super Espresso Machine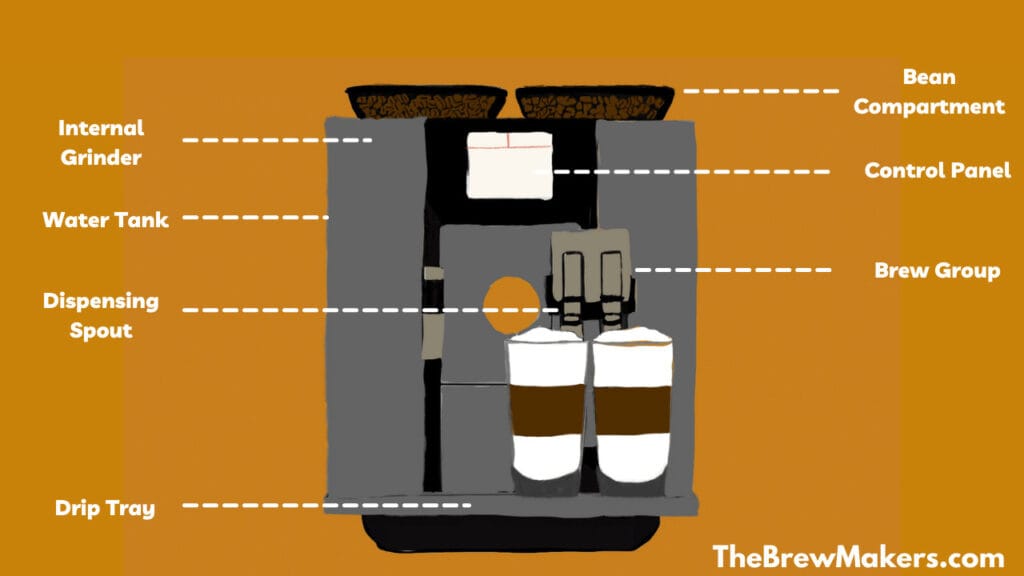 You're probably wondering why I'm going to break down all parts of an espresso machine for you. Whether you have full knowledge of how a super automatic espresso machine works, I think it's always good to have a quick recap before deciding on the machine you want to buy.
Bean Compartment: This is the container where you store your coffee beans for future brewing.
Grinder: This part of the machine grinds the beans to make ground coffee.
Brew Group: This is where the pressure brewing takes place right after the freshly ground coffee has been compressed.
Control Panel: This is the software that some super automatic machines have which allows you to choose different types of beverages and other additional settings.
Water Tank: The water tank is your water reservoir in which the machine needs for brewing.
Drip Tray: The drip tray will help prevent any mess of water that drips out of the dispensing spout.
Dispensing Spout: This is the part of the machine that pours out the coffee brew and sometimes milk if there's a built-in milk frothing system.
Difference Between Espresso Machines
The reason some people prefer an espresso machine over another has usually got to do with the coffee quality. I've noticed a distinct difference, especially between Jura and Delonghi machines. The distinct taste could be caused perhaps by its grind type. Some machines grind beans more coarsely and some more finely. Other factors include the type of brewing method, brew group, control panels, and its milk frothing system.
Brew Groups
Brew groups are the part of the espresso machine in which the actual brewing takes place. Espresso machines either have removable or non-removable brew groups. Super automatic espresso machines usually have non-removable brew groups as they are 'super automatic'. If you want a near hands-off experience then make sure you get yourself an espresso machine that has a non-removable brew group.
Advantages of Super Automatic Espresso Machines
Saves Time: Traditional brewing methods and simple coffee makers can take time to brew. For traditional methods, it can take up to 8 minutes of brewing while super automatics can take under 30 seconds.
Multiple Coffee Drinks: When it comes to choosing your type of coffee drink, a super automatic espresso machine is the way to go. Switching from lattes to cappuccinos in an instant is really a dream come true.
Self Descaling: It is vital that one cleans their coffee maker. With super automatic machines, it cleans and descales itself which can be a big timer saver.
Great Espressos: Espresso lovers will say that super automatics are not true espresso machines. I personally think super automatics make a great imitation of espresso and are better valued for money. It's better than blowing your budget on some big commercial espresso machine.
Disadvantages of Super Automatic Espresso Machines
Descaling Regularly: Having a self-descaling machine is a big advantage when it comes to cleaning your coffee machine. I do however find it annoying to descale your machine often. Usually, the best espresso machines take fairly quick to descale but if you're going on the budget side then it can sometimes take up to 15 minutes.
Jack of all Trades… Master of None: In general, most super automatic espresso machines make decent coffee-related drinks. I do have to say that coffee shops tend to make better cups of coffee as they use machines that are built for brewing espressos, milk frothing, and so on.
Can Be Loud: If you're looking to buy in the cheaper range of super automatic espresso machines, then prepare to deal with the noise. I can speak from experience and often I have to pause my tv while the machine grinds the beans… It's very annoying.
Very Expensive: Firstly, the actual price of a super automatic espresso machine can range between hundreds to thousands of dollars. Cheaper machines can do the job but if you want amazing coffee then you gotta pay the price. Secondly, depending on the brand and country you're in, maintenance costs can put a big strain on your wallet…
Features
Features are general specifications that should come with most super automatic espresso machines. I think it's important to understand what these features actually do so that you make the best out of your machine.
Programmability
If you're the type of coffee drinker that loves to adjust the internal settings of a machine then a machine with a high level of programmability is the way to go. What I mean by programmability are settings including temperature control, liquid volume control, pre-brewing, and pre-grinding.
Temperature Control: Espresso machines usually produce temperatures of 185℉ for an espresso. What's great about temperature control is that if you are unsatisfied with the taste, you can adjust the temperature that will bring the best out of your ground coffee flavor. (temperature can have a huge effect on taste)
Liquid Volume Control: Pretty much every espresso machine allows you to control the volume of water and milk being dispensed but not all have a programmable option. The benefit of a programmable option will allow you to dispense liquid at very specific volumes. This can be a great tool when making drinks like a cafe crema which needs an amount between 6 to 8 ounces.
Pre-Grinding: If you're planning on making a bunch of coffees within a short period of time then pre-grinding is a must. This essentially grinds the next batch of beans and holds the ground coffee in the brew group until you hit go for the next cup of coffee.
Pre-Brewing: The pre-brewing option may also be referred to as the pre-infusion option. This essentially allows for a better extraction from the ground coffee. The process works by pre-moistening the ground coffee and allowing it to steep for a few seconds before the grinding takes place. Another benefit of using the pre-brewing option on your machine is that it helps evenly saturate the grounds instead of water channeling by one or 2 paths through the coffee grounds.
Espresso machines that have a high level of programmability are:
Customization
When it comes to customization, this includes customizing your drinks and perhaps creating your own drinks. Customization differs from programmability as you are not changing the grind size, shot strength, or brew temperatures. This is a great feature if you are looking to change up your daily drinks and show off these drinks to family and guests.
Note that the more customizable the machine is, the more expensive it's likely to be. If you don't plan on customizing drinks then I recommend purchasing a simpler machine that makes good old espressos and cappuccinos.
Temperature
I'm pretty sure when you're looking to buy the best super automatic espresso machine, the temperature is one of the last things to consider. The temperature in fact plays a vital role when it comes to creating a well-balanced shot of espresso. When your temperature is too low, your coffee may taste bitter and if too high, the coffee may taste burnt.
Depending on the espresso machine's level of programmability, you may be able to adjust the machine's water temperature settings. It is more likely to be able to change your milk temperature settings on a super automatic.
The temperature of your milk should ideally be between 150℉ and 158℉. Anything above this temperature will noticeably change the taste of your milk (not recommended) and sticking within these temperatures should be warm enough to produce decent foam.
Brew Strength
Brew strength is essentially how much coffee concentration is in your shot. If your machine is customizable, you can adjust the aroma and choose what brew strength you'd prefer.
Another way of adjusting the brew strength of your coffee is if your machine has the programmable grinder option. With this option, you can adjust the grind size in which you can make it coarser or finer. A coarser grind size will make your brew strength weaker and a finer grind size will make your brew strength stronger.
Presets
Presets is another customizable option that a super automatic espresso machine can have. This option allows you to choose the type of drink you want at the touch of a button. Drink options can be espressos, cappuccinos, lattes, americanos and so on. Some machines give you the option to customize the presets you choose and even create your own preset.
A reminder that if you want a machine with many presets or options to create your presets, it may come with a price. The more customizable a machine is, the more expensive the machine gets.
Milk Frothing and Milk Steaming
When it comes to milk frothing, super automatic espresso machines usually have a built-in milk frothing system. If your machine does not have a built-in milk frothing machine then you can purchase a separate milk frother or milk steamer.
The main difference between frothing and steaming is that frothing milk creates a foamy, light and airy texture while steaming is less foamy and almost makes the milk sweet and caramelized.
If you have a love for lattes then I recommend purchasing yourself a milk steamer but if you are like me and a cappuccino lover, then a milk frother is what you need to buy.
Special Features
Special features are features that don't usually come with a super automatic espresso machine. If you see any of these special features that come with the machine, make sure to check the price of it too. These features will help give you a near-hands-off experience but can be very expensive.
App-Controlled
When it comes to app-based controlled espresso machines, some people may see it as a bonus whilst others may see it as quite gimmicky. To be completely honest, I think the app idea is kind of overkill as you still have to go to the coffee machine and place a cup there. I think it can be very convenient if you are in a rush and have a coffee cup sitting already on the machine.
Brands like Philips & Saeco believe that an app control-based machine is pointless and might as well have a huge digital touch screen… I mean fair enough. I do think there are some benefits to having an app that isn't so gimmicky, here they are:
On the go customer service
Turning on and off the coffee machine from your bed
Quick access to the machines' owners manual
Easier customization to coffee selections
Although apps can come with great features, keep in mind that:
Apps may collect cookies and data for marketing purposes
You may need to pay in order to connect the app to your machine
Apps may promote the brand's products to you when there are probably cheaper alternatives
2 Bean Compartments
Having 2 bean containers is a great feature to have for your espresso machine. Imagine being able to store decaf beans in one container and caffeinated beans in the other. Some machines can have 2 internal grinders, being able to make 2 drinks at the same time.
I think this feature is very convenient for when family members prefer decaf coffee or if you want to make batches of coffee in a short amount of time.
If you're looking for machines with 2 bean compartments then consider:
Most Popular Brands
I know that most of you are here to buy the top pick but I think it's good to know what brands are out there. Many people buy espresso machines based on how popular the brand is but there are definitely fantastic underrated espresso machines from not-so-popular brands.
Here are the brands:
Jura
Delonghi
Philips & Saeco
Krups
Miele
Bosch
Nivona
Melitta
Siemens
What Drinks Can An Automatic Espresso Machine Make
| Drinks | What is it? |
| --- | --- |
| Espresso | Shot of concentrated coffee. |
| Ristretto | Shot of concentrated coffee but extracted with less water. (Stronger espresso) |
| Macchiato | Single or double shot of espresso with splashes of foam. |
| Doppio | Double espresso. |
| Lungo | Shot of espresso extracted with more water. (Weaker espresso) |
| Americano | Cup of hot water with an espresso shot. |
| Cappuccino | Brewed coffee with milk that is just foamed. |
| Latte | Milk foam on top of an espresso, with hot milk. |
| Other | Some espresso machines are capable of making teas, hot chocolates and other special drinks |
Cleaning and Maintenance
When it comes to cleaning and maintaining your espresso machine, it's important to know when you should clean your machine and how to clean your machine. I know it can be a pain having to clean your machine but it'll definitely prolong future maintenance services and prevent your coffee from tasting like ?.
Espresso Machine Features To Look For:
Water filtration system
Non-removable brew group
Automatic purging steam wand
Automatic purging milk carafe
Espresso Machine Parts You Should Clean:
The water tank
The grinder
The drip tray
The bean container
Should I Clean My Machine With Housecleaning Products
I think it's important to make sure to check with the manufacturers or check the manual if certain products are okay for your machine. Some products can ruin your machine such as lemon juice or vinegar for specific models.
Pricing
Considering your budget is the most important thing to consider. I don't believe that you have to buy the most expensive espresso machines on the list. When it comes to choosing your espresso machine, you should consider what you want out of the machine.
If you care about the quality of the espresso and milk, then your price will increase. If you want a high level of programmability and customization then the price will increase too.
It all comes down to what features you actually care about and if you just want the machine to make an espresso and cappuccino, regardless of the quality, then please don't buy some fancy pricey espresso machine.
Consider Refurbished Super Automatic Espresso Machines
Most super automatic espresso machines are very well built and can run for many years if taken care of. Refurbished machines are espresso machines that have been fully serviced by a company and can sometimes be considered (basically) brand new.
If you dream of having a fancy Jura or Delonghi machine and on a strict budget, I highly recommend purchasing a refurbished machine.
Here are some refurbished Jura machines to consider:
Best Super Automatic Espresso Machines: The Verdict
The winner of these espresso machines goes to the Jura E8 for being the best in all aspects.
The reason I chose this machine to be the best overall is that it is a budget super-premium espresso machine. I know that I said the Jura Giga 6 is the best of the best but I think it's a bit 'overkill' for personal use. With this machine, you get the majority of the Giga 6's features but for a cheaper price.
As said in the beginning, each of these super automatic espresso machines are suited for different people.
Make sure to discuss with your spouse or work colleagues on which is the best machine suited for your household or office before the final buying decision!
FAQs
Are there any good quality espresso machines for less than $500?
No. If you're looking for the best super automatic espresso machines then $1000 is probably the lowest price you will pay. I can assure you that a cheap espresso machine will drive you mad as they're usually very loud and make below average coffee.
What is a super automatic espresso machine's lifespan?
When it comes to how long your super automatic machine lasts, there are factors to consider. If you clean your machine occasionally and use it regularly then it should last roughly 10 years.
You can push your machine's lifespan to even 17 years if you take special care of it. You can increase your machine's lifespan by cleaning and descaling often. You should also take your machine in for maintenance when required.
Can I fix my espresso machine by myself?
It obviously depends on what needs to be fixed. If you have a good amount of knowledge of how your espresso machine works and if there are replaceable parts you can purchase on amazon then go for it.
Another factor to consider is how expensive your machine is. When it comes to very expensive machines, I recommend taking it in for a service as you don't want to fiddle with parts that can permanently break your machine.
I think the biggest factor to consider is how well you've looked after your machine. Has it been used intensively? How long have you used it? Do you descale regularly as per instructions and how have you cleaned your machine?
Why do super automatic espresso machines cost so much?
The reason why some espresso machines cost thousands of dollars more than others is to do functionality and the materials used. High quality materials such as stainless steel, brass and metal can even have an effect on the temperature of your coffee.
So when you see a machine that is made of stainless steel with 2 bean compartments and is app-based… prepare to pay the price.
Are super automatic espresso machines worth it?
If you're like me and hate every ounce of instant coffee, then I recommend getting yourself a good espresso machine. Although it's expensive, I personally think it's a good investment as you get to start your day with a great coffee which always motivates me to get through the day.