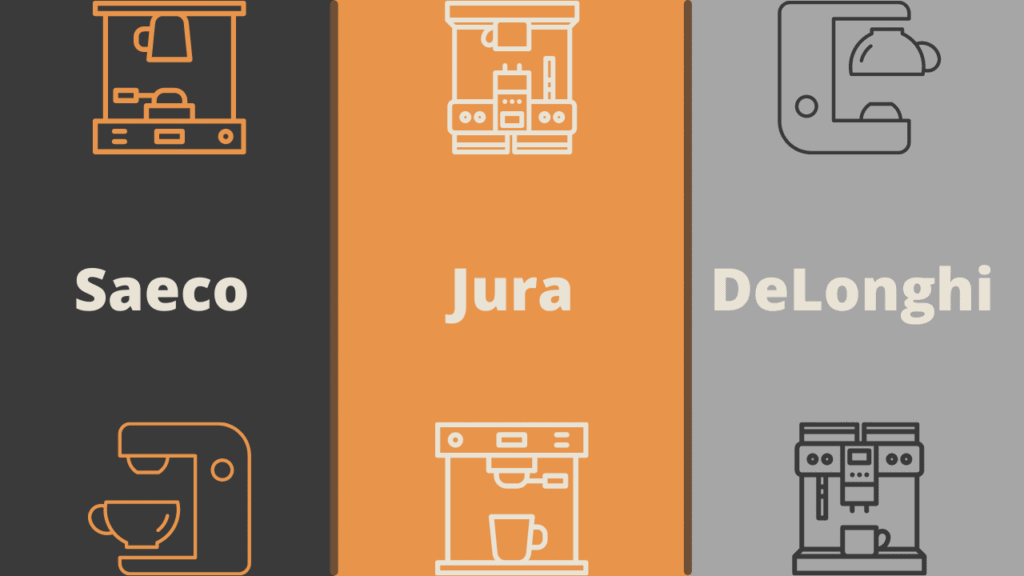 Here is our comparison between Saeco, Jura and DeLonghi.
Saeco, Jura and DeLonghi are by far the top leading coffee brands for automatic espresso machines. Each brand has some great features in terms of sleek design, espresso quality, and brewing technology.
Whether you're planning on getting a Saeco, Jura, or DeLonghi, it's important to know the distinct features between the three. Keep reading to find out which brand is best suited for you.
So, let's get started:
Our Best Machines From Saeco, Jura and DeLonghi
Saeco Overview
The Saeco brand is currently manufactured by the one and only, Phillips. Saeco is Italian-made, being well known for producing high quality espresso machines at a very affordable price. You could probably get the same spec machine for ⅔ the price of a Jura machine. This brand is considered underrated when comparing it to DeLonghi as it is a great entry-level brand to start out with.
Pros
Offers entry-level models: Saeco is a great brand when it comes to offering a larger variety of entry-level espresso machines. Jura only has one entry-level machine and DeLonghi has a few too but is all quite pricey compared to Saeco.
Affordable: If it wasn't for brands like Saeco, then all fully automatic espresso machines would be ridiculously expensive. What I love about Saeco is its affordability. Most of Saeco's espresso machines are affordable compared to Jura and DeLonghi espresso machines.
Better sizing options: Saeco is also known for having very compact machines which give it that small carbon footprint. Espresso machines can sometimes be quite bulky like the Jura Giga 6 while Saeco's largest machines are able to fit on small counter spaces.
Cons
Brewing temperature: Saeco machines tend to have lower brewing temperatures compared to DeLonghi and Jura. This can be a bit of a downside when wanting to brew larger drinks as larger drinks taste better when it's hot.
Jura Overview
Jura is the best Swiss-made coffee brand in the world with a cult-like following. It is well known for having extremely high quality espresso machines that also happen to be really expensive. I'd say Jura definitely makes the most expensive espresso machines out of the three brands as its entry-level machine costs $800. They are exclusive to producing only fully automatic espresso machines that make superb shots of espresso.
Pros
Superb espresso quality: The biggest pro to owning a Jura is its espresso quality. Regardless of its beverage options, Jura is able to brew a hot, thick, creamy, and flavorful shot of espresso compared to DeLonghi and Saeco. These machines can actually make better espresso than cafes, which is a big upside when buying a Jura.
High quality build: Even though some parts of a Jura machine are made of plastic, it is really high quality plastic. Saeco's plastic build can sometimes feel 'plasticky' which is not ideal when buying a premium super automatic espresso machine. Jura also uses high quality internal parts which is why these machines make superb quality espresso.
Reliable: One thing about a Jura machine is that it will last you years if looked after properly. These machines can possibly last you over 20 years and are still able to make quality espresso shots without degrading over time.
Cons
Expensive: The only disadvantage to a Jura coffee machine is that they are more expensive compared to a DeLonghi and Saeco coffee machine. Jura's least expensive product costs $800, that's why it's better to buy a refurbished Jura machine as you will save A LOT of money.
DeLonghi Overview
DeLonghi is considered to be one of the most well-known Italian-made brands as well as its wide product range. What makes DeLonghi stand out from the three is that it offers a range of espresso machines. These machines include Nespresso machines, semi-automatic, and fully automatic espresso machines. DeLonghi also has a premium stainless steel finish to their products and also manages to be more affordable than brands like Jura.
Pros
Great design: DeLonghi by far has one of the best designs for an espresso machine among its competitors. Their machines are somewhat compact but have an amazing all-around stainless steel finish. This really makes their machines look more premium than it actually is and can sometimes look more premium than a Jura.
Great brewing temperature: One thing I have to give to DeLonghi is its brewing temperature. DeLonghi is able to brew beverages with temperatures of 166℉ while Saeco's brewing temperature can only get up to 160℉. The brewing temperature may not change the taste of espresso but definitely for larger beverages.
Wider range of products: If you are a DeLonghi fan then this will be an upside for you. DeLonghi manufactures products ranging from fully automatic espresso machines to burr grinders. Saeco and Jura offer more fully automatic espresso machines and are not known for producing other types.
Cons
Confusing model names: Saeco and Jura machines have easy-to-remember names such as the Jura E8 and Saeco Minuto. DeLonghi machines on the other hand can be harder to differentiate. Many DeLonghi machines tend to use a combination of letters and numbers such as the DeLonghi ECP3420 which can be very confusing.
Saeco, Jura or Delonghi: How Do They Compare?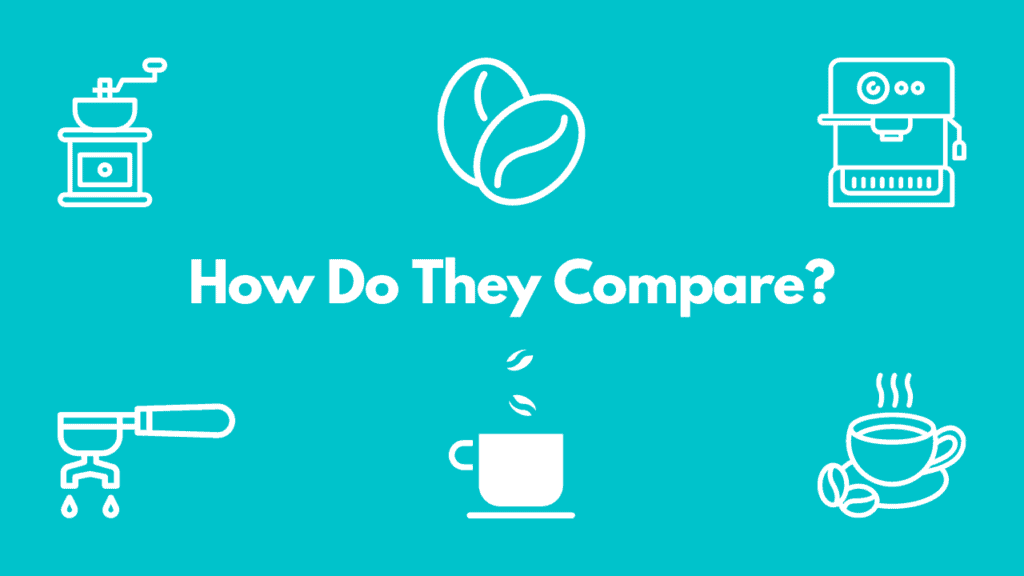 In this short buyer's guide, I will discuss how Saeco, Jura and DeLonghi compare to each other in terms of design, grinder type, size, price, and overall value:
Design
When it comes to the design of coffee machines, we are talking about build quality, sizing and user-friendliness. These brands all have great designs when considering these certain aspects:
Saeco coffee machines are known to have small and compact designs. You will never find a bulky looking Saeco espresso machine even when considering their larger models. In terms of quality build, entry level Saeco machines can sometimes look and feel plasticky which isn't ideal for a premium look. But these machines are very user-friendly which is perfect for a beginner.
Jura coffee machines are built from a mix between plastic and stainless steel. It may not be fully stainless steel like DeLonghi but they do use very high quality plastics which still make their machines look premium. Higher-end Jura machines can also be quite bulky sometimes which is not ideal for small counter space.
DeLonghi coffee machines have a sleek stainless steel finish to it which really makes it look more premium. They can sometimes be complicated at first to use which will take some time to get used to. DeLonghi coffee machines are not too bulky and most are considered to be compact enough for small kitchen counter space.
Grinder
There are 2 main types of burr grinders: A conical burr grinder and a flat burr grinder. These types of grinders are usually built from either ceramic or steel material.
Steel grinders are usually sharper than ceramic grinders at first but blunt over time. They are also more susceptible to heat where ceramic grinders are heat tolerant and don't blunt over time.
DeLonghi is known for using ceramic conical burr grinders.
Saeco is known for using steel flat burr grinders.
Jura on the other hand is known for using multilevel and ceramic conical burr grinders. Some machines even use ceramic disc grinders.
Espresso Quality
When it comes to espresso quality, all these machines can produce a really good shot of espresso. Here I will explain why and which espresso machine makes the best quality coffee overall:
Saeco wins in its affordability but it does come with a price. Unfortunately, Saeco espresso machines come 3rd in terms of espresso quality compared to Jura and DeLonghi. Don't get me wrong, Saeco makes a good cup of coffee but cannot compete with the other 2 brands.
DeLonghi comes in 2nd in terms of its espresso quality. Their semi-automatic espresso machines do however make amazing espresso quality. DeLonghi produces hotter drinks than Saeco which helps improve its espresso quality. This is a big upside when making larger coffee beverages.
In 1st place for espresso quality is Jura. Coffee drinkers always go on about the quality of coffee a Jura coffee machine produces. This explains why their entry level machine is quite pricey. With Jura, you'll get a much creamier, full and strong espresso compared to its DeLonghi and Saeco.
Overall Value
Saeco, Jura and DeLonghi all have aspects that some people prefer over others. In this table, I will list aspects that each of these brands thrives in and then decides on the overall winner between the 3:
| Feature | Winner |
| --- | --- |
| Grinding Quality | Jura |
| Affordability | Saeco |
| Cleaning and Maintenance | Jura |
| Reliability | Jura |
| Design | DeLonghi |
| Espresso Quality | Jura |
| Overall Winner | Jura |
Best Machines From Saeco, Jura And DeLonghi
I have listed the best and most popular coffee machines from Saeco, Jura and DeLonghi that you may want to consider buying:
The Saeco Incanto is by far one of the most affordable super automatic espresso machines that are packed with some decent features. It is almost half the price of a premium espresso machine and is perfect for an espresso purist. If you are not too fussed about having a bunch of specialty drinks that you'll never make then the Saeco Incanto is the one for you.
---
---
On the other end of the spectrum, the Saeco Xelsis is one of Saeco's most premium super automatic espresso machines. The Saeco Xelsis has a similar design to a few of the Jura models with its detachable milk frother on the side. This espresso machine can brew up to 15 specialty drinks and has up to 6 customized brewing profiles which are perfect for a picky family.
---
---
The Jura E8 is Jura's most popular choice being rated the best for its value. The Jura E8 is hands down the best Jura machine for home use as it's not too big but has a good-sized water reservoir and bean hopper capacity. This espresso machine can make up to 16 specialty beverages that produce amazing espresso quality as well as milk froth. You can say that this competes with the Saeco Xelsis which may be more expensive but is ahead in terms of brewing quality.
---
---
If you're a die-hard fan of Jura but are on a strict budget then the Jura A1 is the way to go. The Jura A1 is Jura's least expensive and most compact espresso machine but still makes that fantastic Jura espresso quality. The Jura A1 is one of Jura's best machines as it's also perfect for an espresso purist that doesn't care about a bunch of fancy specialty drinks. It competes with the Saeco Incanto but outperforms it in terms of espresso quality by a margin.
---
---
One of De'Longhi's newest and intuitive fully automatic espresso machines is the De'Longhi Dinamica Plus. This espresso machine allows you to create 3 of your very own personalised espresso recipes. I think this feature is better than just having your own brewing profile. This machine can make up to 16 specialty beverages which is on par with the Jura E8. It's one De'Longhi's best fully automatic espresso machines and promises that amazing Italian-made espresso.
---
---
The De'Longhi Dedica 15-Bar espresso machine is a very sleek, and compact semi-automatic espresso machine. It has 3 buttons: 1 for single-shot brewing, the other for double-shot brewing, and the last button to turn on the steam wand. This is a great machine if you're an individual and want to take your barista skills up a notch. Learning how to create latte art and tamping the coffee grounds will definitely help perfect your brew making.
---
---
If these espresso machines aren't for you then make sure to check our best super automatic espresso machines.
Frequently Asked Questions
Which brand is the most expensive?
Jura coffee machines tend to be the most expensive when compared to Saeco and DeLonghi. These machines tend to be a higher quality build and have the best overall brewing quality.
Which brand is the most popular?
DeLonghi is definitely the most popular brand as it offers a much wider range of products. The Nespresso DeLonghi espresso machines are one of the most popular espresso machines in the world.
Which brand makes better coffee?
This is all a personal preference but Jura tends to be the highest rated when it comes to espresso quality. But both DeLonghi and Saeco make amazing espresso shots too.
The Verdict
Now that you know the major differences between Saeco, Jura and DeLonghi, it's time to decide on which brand best suits you.
If you are looking for an affordable yet premium fully automatic espresso machine, then a Saeco will best suit you. It makes a decent cup of coffee and is almost half the price of a Jura or DeLonghi.
If you are unsure about choosing a type of espresso machine such as a full or semi-automatic then consider looking at DeLonghi. It has a whole range of espresso machines you can choose from and also makes a fantastic cup of espresso. It also looks the premium expensive of the 3.
If you're looking for the most premium-end espresso machine that makes the best espresso quality out of the 3 and is highly reliable, then go for a Jura, seriously.