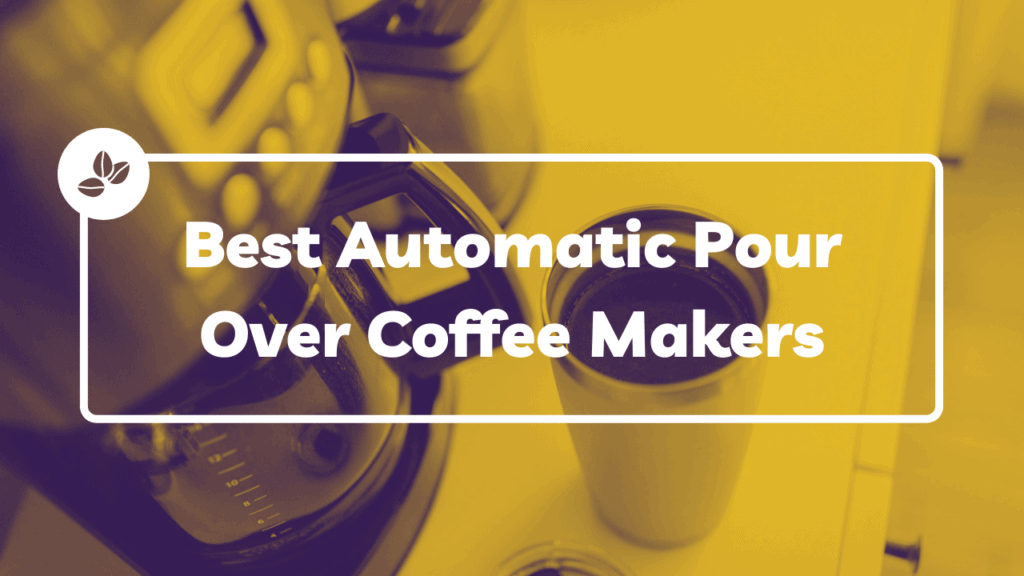 This is our review of the best automatic pour over coffee makers.
Most roundup reviews on the best automatic pour overs seem to be very vague. In this article, I plan on listing the best automatic pour over coffee makers that suit YOUR lifestyle. If you're a camper, a home user, or on a budget, we have the best coffee maker for you.
I found the Ninja 10 Cup to be the best of the best on this list. It may not be the best suited for you but it is by far the most premium-end automatic pour over out there.
In this review, you'll know the advantages and disadvantages of automatic pour over coffee makers over other coffee makers. I will also show you some of the most unique pour-overs, including their pros and cons.
So let's get started!
Our Best Automatic Pour Over Coffee Makers
Advantages of Automatic Pour Overs
Automatic pour over coffee makers have great advantages when comparing it to super-automatic espresso machines and other coffee makers:
Budget-friendly: Espresso machines like Jura's and Delonghi's can be very pricey compared to automatic pour over coffee machines.
Finer tasting coffee: When comparing pour overs to coffee makers like french presses, pour over coffee makers perform better with finer grounds. This helps bring out more flavor notes from your coffee.
Brew for groups: Espresso machines can be time-consuming when having to make coffees one at a time. Pour overs on the other hand are much more capable of making batches of coffee.
Less manual: If you love manual pour over coffee and want more convenience then an automatic pour over coffee maker is worth the investment.
Disadvantages of Automatic Pour Overs
Automatic pour over coffee makers will have some disadvantages when compared to other coffee makers but there aren't many:
Cannot use whole bean coffee: The biggest disadvantage to pour overs is that you can only use ground coffee. This does suck as whole bean coffee is usually less expensive than purchasing pre-ground coffee.
Can be time-consuming: Although pour overs will save you time when making coffee for groups, dripping coffee into a carafe can feel time-consuming for individual use.
7 Best Dog Automatic Pour Over Coffee Makers Reviewed
Here are 7 of the best automatic coffee makers on our list. This list is best suited for different types of people whether you're a camper, home user or just need a quality yet affordable coffee maker:
Best for Budget
Features
Programmable timer
Auto shut-off
Digital clock display
Stainless steel plates
Pros
Small and compact design
Budget friendly
Portable
Easy to use
Cons
Plastic quality build
Average tasting coffee
Average temperature control
Mr. Coffee 5 Cup Mini is one of the most popular automatic pour over coffee makers customers buy. The reason for this is that it is highly affordable and makes better coffee than that horrible instant coffee. What I also enjoy about this coffee maker is that it is small and compact which is great for manoeuvring around the kitchen counter.
The downside to the Mr. Coffee 5 Cup Mini is that it, unfortunately, looks very cheap. Even though it has a quality plastic build… It's still plastic. A few people have found that the temperature control is not the greatest and that the coffee is not hot enough. The only quality parts are its stainless steel plates, but that's it.
Other than its cheap-looking build, this coffee maker is somewhat 'smart'. It has a cool-looking digital clock display as well as a programmable timer which is very convenient. If you're looking for a very affordable pour over coffee maker and want some convenient features then this is the one.
---
---
Best for Camping
Features
Stainless steel mesh filter
Battery-powered
Brews up to 120ml of coffee
Pros
Small and lightweight
Eco friendly (reusable filter)
Very easy to clean
Good quality coffee
Very portable
Budget friendly
Cons
Does not make a lot of coffee
Does not automatically heat up coffee
Feels manual
Has no functionality other than the ON button
The Linkind is the most unique automatic pour over coffee maker on this list. This machine is not entirely 'automatic' as you have to place the coffee maker on top of the damn coffee cup! The reason why the Linkind deserves to be on this list is because it is probably the smallest and most portable coffee maker in the world. The best part about the Linkind is that it's 'battery-driven' which is perfect for campers.
The downside to the Linkind is that you have to heat up your own water, it doesn't have any functionality other than making a simple coffee and has a very small brewing capacity. If you're not planning on traveling at all with your own coffee maker then I don't recommend even shortlisting the Linkind for your buying decision.
There are lots of downsides to this coffee maker in terms of functionality but this is not what this coffee maker aims for. The Linkind is specifically designed for making your manual pour over experience when camping 'automatic'. It makes better coffee than the majority of pour overs and does the pouring for you. If you're a camper then this is an amazing coffee maker to travel with.
---
---
Best for Versatility
Features
Automatic and manual mode
Battery-powered
Digital display
Built-in scale
Pros
Great portability
Measure coffee to the exact ratio with a scale
Easy to clean and descale
Budget-friendly
Cons
Have to buy specific batteries (AAA)
Small brew capacity
The Gourmia GCM3250 is my favorite automatic coffee maker out of the bunch. It is the best coffee maker for versatility because you can make a cup of coffee wherever and whenever. The key feature is that you can switch between automatic and manual modes which is great if you ever feel like crafting the coffee yourself.
The downside to this Gourmia GCM3250 is that it doesn't have the largest brewing capacity and the machine does not include batteries. Some customers complained that it does not heat up your coffee when making coffee on battery mode.
What's great about the Gourmia GCM3250 is that you can adjust the brew strength which will then tell you how much ground coffee you'll need to place. I also love that it alerts you when you have added the correct amount of ground coffee or if you added too much ground coffee for your brew strength. This machine is great for pretty much anyone whether you're traveling, using it for home, or even camping.
---
---
Best for Groups
Features
Auto drip-stop
One touch functionality
Plastic and brushed metal build
Brews up to 12 cups
Pros
Gold plated filter
High level of programmability
Great ergonomic build
Affordable
Cons
No digital display
Bulky and heavy
The Cuisinart coffee maker is the best automatic pour over coffee maker for groups of people. This is the only coffee machine that holds up to 12 cups of coffee. This is great if you plan on making coffee for your family and friends. The Cuisinart makes a great full-bodied coffee where many other pour over coffee makers are known to taste plasticky.
The downside to the Cuisinart is that it is very bulky and heavy. This means that it is not the most portable coffee maker and can be a hassle if manoeuvring it around your home. Another downside is that the Cuisinart does look a bit outdated having no digital display.
The Cuisinart is a great buy other than its downsides as it has a decent level of functionality and is affordable at the same time. I recommend anyone who needs to make great coffee for a big family then the Cuisinart is the way to go.
---
---
Best for Value
Features
Stainless steel finish
Pre-infusion mode
BPA free plastic
Dishwasher safe
Pros
Great quality coffee
Very easy to use
Great temperature control
Good quality build
Cons
Pricey
Difficulty pouring out the carafe
Not eco friendly
The Bonavita Onetouch is known to be one of the best 4 cup coffee makers on the market. If you read our best 4 cup coffee makers, we rated the Bonavita Onetouch to be the best overall in quality. The machine has one of the best quality builds and makes a great cup of coffee. The Bonavita uses one-touch functionality which makes the machine very simple to operate.
The downside to the Bonavita is that customers have said this machine does use a lot of power usage for what it's worth. This means that if you're looking for an eco-friendly machine then consider another product. Another downside is that it doesn't have the prettiest design but that's not the biggest downfall to this machine.
Even though this German machine doesn't have the greatest carbon footprint record, I still think it's one of the most durable and quality automatic pour overs out there. The reason why it's the best for value is that the Bonavita Onetouch is very reliable when it comes to long use and maintenance.
---
---
Best for Runner Up
Features
Brews up to 10 cups
Auto shut-off after 100 minutes
5 year warranty
Stainless steel thermostats
Auto drip-stop
Pros
Great brewing consistency
High quality build
Brew coffee for groups
Parts are easy to replace
Cons
Very expensive
Large in size
Water tank is not removable
The Technivorm Moccamaster KBG 741 is arguably the best European automatic pour over coffee maker. It is the top-of-the-range premium-end coffee maker meaning it does not get better than this. With its perfect brewing consistency that brews up to 10 cups, it's perfect for office or home use. The most unique thing about the KBG 741 is its design. I have never seen another pour over coffee maker that looks like this.
The downside to the KBG 741 is that it's very pricey and it may not be the most portable and compact machine out there. I don't recommend buying this coffee maker if you are considering your budget or a more individual use product.
Other than the downsides, there is a reason why the KGB 741 is the best automatic pour over coffee maker on this list. It is very simple to use and has all the functionality you need in a coffee maker. With the superb tasting quality and quick brew time, I'm sure you'll be highly satisfied with the KGB 741.
---
---
Best for Overall
Features
Brews up to 10 cups
Glass carafe
Automatic milk frother
Removable cleaning parts
Pros
High level functionality
Great brew quality
Removable water reservoir well designed
Cons
Pricey
Plastic build
Difficult to use
The Ninja 10-Cup is a unique coffee maker to be one of the only coffee makers to have a milk frother. This coffee maker is ideal for making coffee for groups of people. Some people may want a pour over cappuccino while some may just want it plain and black. It is a premium-end coffee maker just like the Technivorm which also produces a great cup of coffee.
The downside to the Ninja 10-Cup is that it's somewhat pricey and it can be quite complicated to use. It's great that it has a lot of functionality including frothing milk but the average consumer will find it difficult to use at first. I don't recommend buying this coffee maker if you want more of a simple pour over coffee maker.
Besides the Ninja 10 Cup's downsides, I think it's a great coffee maker to consider. It's one of the only coffee makers that can froth milk for your drip coffee. If you are someone that likes a lot of functionality then this is the coffee maker to buy. It's really cool having a milk frother for a pour over coffee maker.
---
---
Buyer's Guide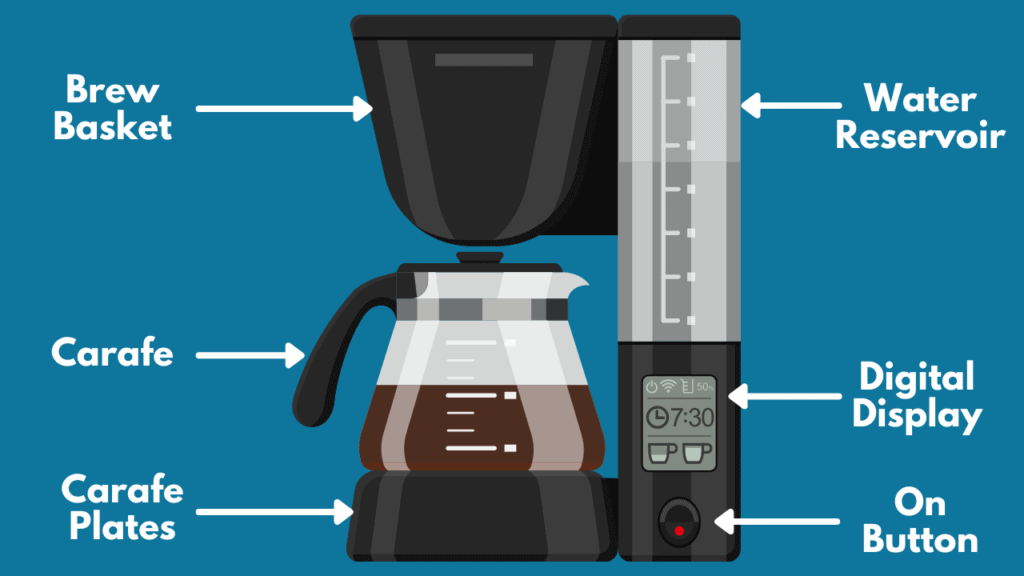 There are many aspects to a coffee maker especially with an automatic pour over. This buyer's guide will help you decide on which is the best automatic pour over coffee maker for you:
Startup Time
When you're in a rush for work, having a quick start-up time can be a huge advantage. Even some of the most expensive pour over coffee makers can have sluggish start-up times so it's important to consider how quickly your machine can brew a cup of coffee.
Build Type
When it comes to a coffee maker's build type, it's important to know how to differentiate between good and poor quality material. I find that stainless steel seems to be the best quality material as these are definitely the most durable. Plastic builds tend to be on the cheaper side of the spectrum which explains why some are so budget-friendly.
There are other types of materials used such as glass carafes and brushed metal. Although a glass carafe seems more premium, I do find it safer to use a plastic carafe to prevent any shattering.
Brew Speed
Brew speed is a major factor to look at when choosing your coffee maker. Pour over coffee makers tend to be one of the slowest brewing methods so important to have optimum brewing speed.
Factors that affect the speed of your brewing are things like startup time, how quickly your coffee drips as well as timers to let you know when the brewing process finished.
Heated Plates
Heated plates are definitely one of the most convenient features to have in a coffee maker. If a machine does not have heated plates then it can be very frustrating. There have been many occasions where I make a cup of coffee when trying to multitask. Sometimes I even forget I made a cup of coffee and the coffee ends up being cold.
There is nothing worse than having cold coffee unless it's iced. I highly recommend making sure that your coffee maker has heated plates as this is more of a necessity than an additional feature.
Eco-Friendly
When a coffee maker is eco-friendly, it usually means that it has a low carbon footprint or has reusable and recyclable material. I personally believe that having eco-friendly appliances in our kitchen has a big impact on the world which is why an eco-friendly coffee maker is a good factor to consider.
Cleaning and Descaling
Cleaning and descaling can feel very manual so it's important to look at how easy it is to clean your coffee maker. Some coffee makers are dishwasher safe which will help get rid of some of the manual work.
Another factor to consider is how easy it is for the coffee maker to descale internal parts. Some coffee makers require you to use household vinegar solutions to run through the coffee maker while others require you to press one button to descale the whole machine. So keep in mind how easy it is to descale before finalizing your buying decision.
Price
The price of your coffee maker is usually the biggest concern to most people. When buying a pour over, it's important to consider whether you're buying a budget-friendly pour over or a pour over that will save you money in the long term.
If you're planning on using your pour over a lot then you should also consider the maintenance costs and how easy it is to replace parts. It wouldn't be the best idea to buy a coffee maker that's budget-friendly but will eventually cost you in the long term.
Although most people want an affordable coffee maker, especially automatic pour overs, it's important to consider which coffee machine is best suited for you. It would be better to buy a more high-end coffee maker if you're all for great-tasting coffee and premium quality build.
FAQs
Why use an automatic pour over coffee maker?
Automatic pour over coffee makers is probably the best and most used coffee makers for the average coffee consumer. One of the main reasons to use an automatic pour over coffee maker is because they are marginally less expensive compared to super-automatic espresso machines.
Another reason is that a lot of coffee lovers HATE the taste of instant coffee, including me and an automatic pour over uses ground coffee that brings out rich and aromatic coffee flavors.
How do you clean and descale an automatic pour over coffee maker?
Automatic pour overs these days have cleaning functions which can easily be done by the press of a button. However, if you have a simple pour over with little to no functionality then follow the general steps to clean your coffee maker:
Fill the water tank with equal parts of vinegar/descaling solution and water
Ensure that your brew basket has no leftover coffee grounds
Start the machine as if you would brew coffee and let the machine finish dripping into the carafe
Now that you have removed any water residue within the internal parts of the machine, you can then wash your carafe and brew basket in either a dishwasher or by hand.
Clean any other external parts and then place the cleaned carafe and brew basket back into the machine.
If you would like to learn how to clean any other coffee maker then make sure to look at our guide on 5 Coffee Makers You Should Clean.
What are the best coffee grounds for automatic pour over coffee?
Despite using the fanciest and most expensive coffee grounds, it's important to understand that different coffee makers require different ground sizes. When it comes to pour-over ground coffee, you'll want to look for coffee grounds that have a medium-fine grind size.
If you buy grounds that are too fine, your pour over may struggle to extract and drip coffee into the carafe. If the coffee grounds are too coarse then your coffee will lack flavor as the water will drip too quickly into the carafe.
The Verdict
When it comes to which is the best automatic pour over coffee maker, the best of the best has to go to the Ninja 10-Cup Specialty Coffee Maker. It has the most functionality out of the bunch including a milk frother and makes a superb cup of coffee.
Like I said, this coffee maker isn't suited for everyone so the best coffee maker for you might be something different on this list. If you're a camper, then consider the Linkind or Gourmia GCM3250.
Make sure to comment down below on what you think is the best automatic pour over coffee maker on this list!