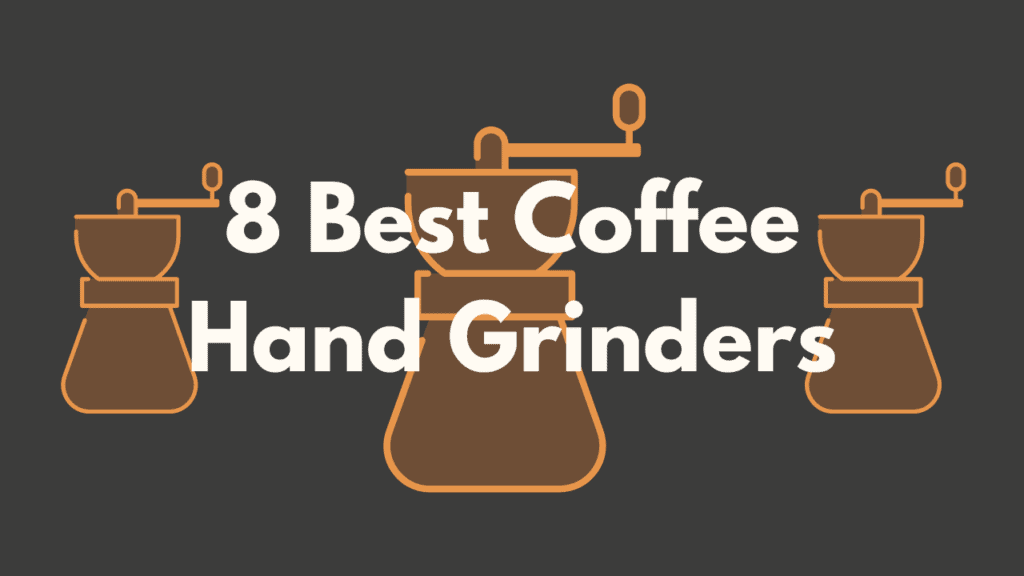 This is our review on the Best Coffee Manual Grinders in 2021
Manual coffee grinders are arguably the best coffee tools for grinding freshly ground coffee.
I find that electric burr grinders are not the best for grinding coffee and do not compare to the old manual hand grinder.
Everybody is different, which means that not every person suits the same hand grinder. That's why I compiled an illustrative guide to the best manual coffee grinder suited for camping, budget, value and more.
With this roundup review, I can promise that you will find the best hand grinder that is suited just for you.
Let's get started.
Our Best Manual Coffee Grinders
Why Should You Buy A Manual Coffee Grinder?
What makes a hand grinder great is that it produces slightly better tasting coffee than electric grinders. Automatic grinders produce heat when grinding the beans which can remove some of the aromas and flavours within the beans.
Other than the manual part, hand grinders are usually better than automatic grinders. This is because it produces better grind consistency and for a more budget-friendly price. If you're someone who also enjoys the craft of coffee from scratch, then a hand grinder is for you.
8 Best Manual Coffee Grinders Suited For Everyone Reviewed
All hand grinders in this list have been reviewed in full detail. I am completely unbiased to any of the hand grinders and aim to give the ups and downs to each product.
Best Overall
Pros
Superb quality tasting espressos
Anti-rotational knob
Magnetic grind canister
Effortless to grind
Great quality build
Cons
The best hand grinder on the market goes to the Kinu M47 for its overall features. The Kinu M47 is known for making superb quality tasting espressos and its pour-over coffee. The grind consistency beats the Comandante C40 by just a hair which is very impressive. Another convenient feature about the Kinu M47 is that it has an anti-rotational knob. This allows you to apply more pressure with less effort, unlike most hand grinders.
The only downside to this hand grinder is that it is… very expensive. To put the price in perspective, you can compare the price of this hand grinder to a premium Nespresso machine. Even though its price is ridiculous for a hand grinder, its specs are definitely worth the investment. You'll probably never have to buy another hand grinder again.
Forgetting about the price, the Kinu M47 is undoubtedly the best hand grinder on the market. With its built-in grind canister magnets and precise grind consistency, the Kinu M47 is perfect for grinding all types of coffee beverages. It is a bit pricey but I believe it's a great investment if you are going to be using a hand grinder a lot.
---
---
Best Runner Up
Pros
Great grind consistency
Beautiful design
Cons
The jar may feel loose when grinding
Glass jar more susceptible to breaking
The Comandante C40 MK111 is a masterpiece when it comes to grinding coffee. Its double axe bearings grind near-perfect grind consistency which helps produce perfect brewing extraction. What makes this hand grinder stand out is that it is beautifully designed with a robust glass jar that comes in both clear or dark-coloured. But let's not forget about the amazing tasting coffee it can produce.
The downside to this hand grinder is that the ground catcher is made of glass which is more susceptible to breaking if dropped. Another downside is that a few people complained that the glass jar feels loose from the grinder when grinding beans.
Even though the Comandante C40 comes in second place, both the Comandante C40 and Kinu M47 are fantastic hand grinders. Some cafe's use these hand grinders for even commercial espresso machines. Some people prefer the Comandante over the Kinu for its better-looking design. It's an excellent hand grinder on the premium-end spectrum.
---
---
Best for Value
Pros:
Very fast at grinding
Great quality build
Cons
Heavy for when travelling
Expensive for average consumer
The 1ZPresso JX is a great price for what it's worth. I would consider this as one of the best high-end hand grinders competing with the Timemore Chestnut G1. The most noticeable feature about this product is that it grinds about 20g every 24 seconds. This is almost twice as fast over many other hand grinders. The 1Zpresso JX has a great quality build and is very sturdy making it much easier to grind.
One downside I found is that it produces more of a bitter acidic taste rather than a sweet and complex taste. This is only considered a downside if this isn't your brew preference. A lot of people actually like more of an acidic taste including me. This hand grinder can be a little heavy for when travelling but is perfect for home use.
If you're looking for a near premium-end hand grinder that is much cheaper compared to the Kinu M47 then I recommend shortlisting this hand grinder. I think it's definitely one of the best well-built hand grinders on the market and is a near-perfect hand grinder for home.
---
---
Best for Portability
Pros
Great for travelling
Good grind consistency
Good quality build
Very affordable
Cons
Small grind capacity
Not great for espressos
The Porlex Mini is a go-to hand grinder for when travelling with minimal space. Before I tell you about the features of this grinder, keep in mind that this is an entry-level grinder. In terms of portability, the Porlex Mini is by far the most compact hand grinder on this list. It also has a great build quality being made of stainless steel. The grind consistency is decent… for its price.
Although it has a good grind consistency, the downside is that it does struggle to produce finer grinds when wanting to make espressos. Another downside to this hand grinder is that it has a small grind capacity, storing only 20g of beans at a time.
Although this grinder is not ideal for making espressos nor having a large grind capacity, it's still the best entry-level hand grinder. If you're someone who travels a lot and enjoys their aeropress or filter coffee then the Porlex Mini is a good consideration.
---
---
Best for Camping
Pros
Very durable and robust
Has a carabiner for backpacking
Decent grind consistency
Cons
Relatively expensive
Not ideal for home use
The VSSL Java hand grinder is arguably the most durable and robust hand grinder out there. What makes the VSSL Java so unique compared to other hand grinders is that it's not manufactured by a coffee company. VSSLGear is an outdoor company that manufactures camping gear. What's cool about this grinder is that it has a built-in carabiner which is perfect for attaching to your camping bag.
The downside to the VSSL Java is that it does come with a price. It is slightly more expensive than the 1ZPresso JX which is something to consider. The hand grinder also produces averagely good coffee, almost identical to the Timemore Chestnut C2. The VSSL Java is more robust and well-built which is a better choice than the Timemore Chestnut C2.
The VSSL Java can produce a good cup of coffee but don't buy this if you are only going to use it for home use. If you are a regular camper then I do recommend purchasing this hand grinder as it is an amazing piece of 'gear' for trails and outdoors.
---
---
Best for Filter Coffee
Pros
Makes fantastic filter coffee grounds
Superb grind consistency
Very affordable
Cons
Not many grind adjustments
Not recommended for fine grinding
The Normcore Hand Grinder is an impressive grinder for its price being slightly cheaper than the Timemore Chestnut C2. The reason why I say this is the best for filter coffee is that the Normcore has one of the best grind consistencies on the market. Filter coffee can be hard to perfect and I think this is a great tool for making amazing filter coffee.
The downside to the Normcore is that there are fewer grind adjustments on this grinder which makes it difficult to produce finer grinds for espressos. This grinder grinds very even particles but is not recommended for finer grinds.
Filter coffee can sometimes taste too bitter and acidic when using pre-ground coffee. I highly recommend the Normcore grinder if you are a fan of filter coffee and want the perfect coffee ground size. An upside is that it is also very budget-friendly if you are considering the price too 🙂
---
---
Best for Design
Pros
Minimal and sleek looking design
Very affordable
Can produce decent espresso grounds
Cons
Grind canister can feel unpleasantly loose
The Varia Hand Grinder is by far the best looking out of the bunch. With its full black aluminium body and overall minimal design, it's definitely my favourite looking hand grinder. The Varia hand grinder has a decent amount of grind adjustments allowing you to grind better espressos compared to the other hand grinders on this list.
The downside to this hand grinder is that the grind canister can feel unpleasantly loose when grinding coffee. A lot of hand grinders' canisters seem to feel loose when grinding so this isn't an uncommon issue.
Overall, I think the Varia hand grinder is great for what it's worth. I would buy the Varia personally because it's about a third cheaper than other high-end hand grinders. The Varia will also look great if you're aiming for a minimalist style kitchen.
---
---
Best for Budget
Pros
Very affordable
Makes amazing pour-over coffee
Cons
The lid feels plasticy and loose when grinding
Not ideal for espresso grinding
The Timemore Chestnut C2 is one of the most affordable hand grinders on this list. I know you're probably thinking why the Porlex Mini isn't the best for budget but there's a reason for this. The Porlex Mini deserves to be the best for travelling regardless of its price. The Chestnut C2 is the best for the budget because it makes fantastic pour-over coffees. It also has a reasonably fast grind while being very budget-friendly. Overall, an averagely good hand grinder is perfect for the average person who wants their regular coffees in the morning.
The downside to the Chestnut C2 is that it can feel a bit plasticky and loose. I don't think it's a bad build but the lid can feel loose when grinding which may bother some people. Another downside that I found is that this hand grinder is not ideal for making espressos. The grind adjustments seem to have too big of a gap to have precise and fine ground.
Other than those two downsides, you must realise that the Chestnut C2 is marginally less expensive compared to other high-end hand grinders. The Chestnut C2 is by far the new standard for budget hand grinders and is definitely the best for budget.
---
---
Buyers Guide
Before choosing any of the above hand grinders, I recommend having a look at our buyers guide to determine what is the best suited hand grinder for you.
Size & Portability
When it comes to the size of your hand grinder, it's important to consider how portable it needs to be. Many coffee-lover travellers or campers like to take a hand grinder for their morning coffees. A small hand grinder is a must for when camping as you can produce superb quality french press or pour over coffee wherever you go.
Larger hand grinders are better suited for home use. If you want to grind bigger batches of coffee beans then consider one of these. Larger sized hand grinders also tend to be sturdier and easier to use when making your ground coffee. Though larger hand grinders are better to use, it does come with a price.
Capacity
Capacity is an important factor to consider, you don't want to be making lots of small batches to get the right amount of coffee. If you're planning on making multiple cups at a time then make sure to look at a larger capacity. There's nothing worse than making another batch while the first batch waits for brewing while it loses its flavor.
Material Build
In terms of material-build, hand grinders are usually made of either steel or ceramic. If you're planning on travelling or camping then I recommend looking for steel-made hand grinders. Steel-made hand grinders are more durable, resilient and easier to clean. A ceramic-made hand grinder is good if you just plan on using it at home.
There are other material builds such as wood or glass but these materials are more fragile and are less durable if you plan on travelling. Wood hand-grinders tend to be harder to grind but are cheaper but I recommend investing in a good quality hand grinder.
Grind Settings
When it comes to grind settings, a hand grinder that can grind different sizes is great. I love my espresso in the morning and my french press coffee during the day. If you're someone like me that changes between fine and coarse grinds, then consider a high-end hand grinder.
If you're just looking for a hand grinder that makes a simple black coffee, then you don't need to worry about this factor.
Noise
When using your hand grinder, better quality builds tend to be slightly quieter but there isn't really too much of a difference. If you plan on buying a hand grinder then you don't need to be too concerned by the noise as hand grinders are usually pretty quiet.
Another pro to hand grinders over electric grinders are that electric grinders make way more noise than hand grinders. Electric grinders can be quite annoying when trying to make a cup of coffee in the morning :/
Shot Quality
Shot quality will be dependent on how well built your hand grinder is and how many grind settings it has. If you want great quality coffee then buying a more premium hand grinder is a must.
If you are here to decide whether to buy a hand grinder or electric grinder, then a hand grinder is going to bring you better shot quality. Buying an electric grinder will mean you'll have to sacrifice shot quality for convenience.
Price
In terms of price, higher-end models are going to be more expensive but are worth the price. The average hand grinder costs between $10-$30 which are relatively cheap compared to electric burr grinders.
Remember, the higher the price, the more adjustable grind settings and build quality you're going to get. Lower-end models tend to have a poor quality build and are not advised if you plan on bringing these models when travelling or camping.
FAQs
Is it better to grind your own coffee?
Yes, grinding your own coffee is better than purchasing pre-ground coffee. There's nothing better than grinding fresh coffee beans which helps preserve the freshness of the aroma for your coffee.
How do you clean a hand grinder?
Cleaning your hand grinder is simple. I recommend using a small brush or Q tip to scrub oils and grounds out of your grinder. You can then use a cloth and soapy water to wash the exteriors of your hand grinder.
NB: Please do not clean your hand grinder in the dishwasher unless it says you may do so!
Can you use a hand grinder for espressos?
Yes, you can make amazing tasting espressos with your hand grinder. In fact, you can pretty much make any coffee beverage if you have a good quality hand grinder with many adjustable settings. To make espresso, all you need to do is adjust the hand grinder to a finer setting to make a shot of espresso.
Are manual coffee grinders better than electric ones?
It honestly depends on what you like best out of a grinder. If you want a more convenient and quicker way to grind your beans then go for an electric grinder. I do think that hand grinder beats electric grinders overall as it's cheaper, produces better quality coffee and you don't need to charge it!
How long does it take to grind the coffee?
Depending on how finely you are grinding the coffee, it can take up to 1 minute to make 2-3 cups of coffee. It also depends on the quality of your hand grinder. Cheap hand grinders can take up to 3 minutes just to finely grind 3 scoops of ground coffee.
The Verdict
As said in the beginning, every manual coffee grinder is suited for different people.
Hand grinders play a vital role in producing fresh and balanced coffee which means that investing in a premium-end hand grinder is a must.
I find that the Kinu M47 is the best overall premium-end hand grinder when it comes to making superb coffee. I won't lie, it's a bit pricey but I recommend reading more reviews on the Kinu M47 if this review has not convinced you.
If this hand grinder isn't for you then maybe the other manual coffee grinders on this list are.
If you're considering buying a super automatic espresso machine then have a look at our review on the best super automatic espresso machines.