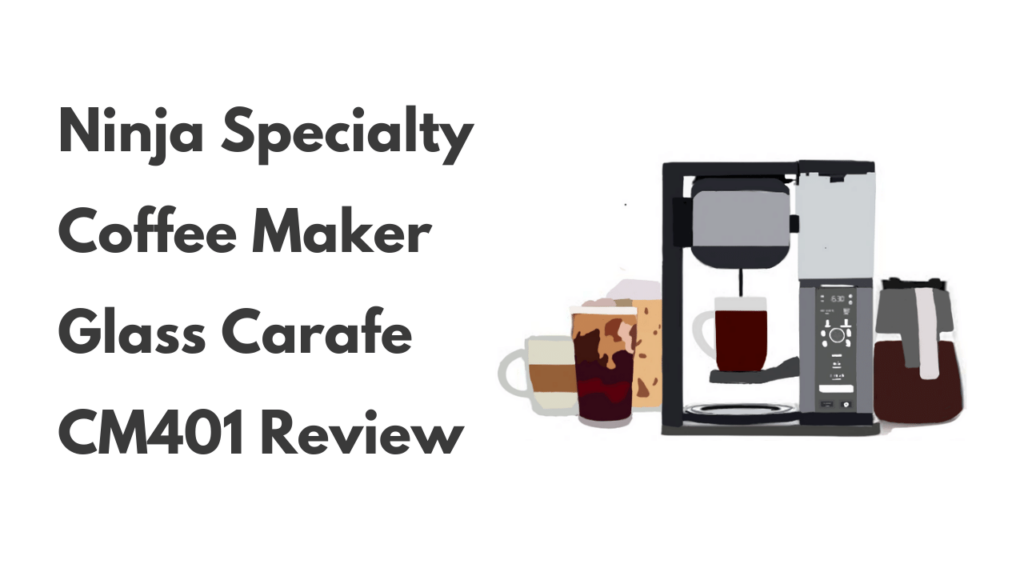 Here is our review on the Ninja Specialty Coffee Maker Glass Carafe CM401.
The Ninja Specialty Coffee Maker CM401 is one of the most innovative coffee makers on the market. It is one of the few coffee makers that are able to brew milk-based beverages such as a latte and cappuccino.
I'd say one of the key functions that this machine has is the ability to mimic a shot of espresso. So if you're an espresso lover then this feature can come in handy.
In this review, I will be summarizing an overview of the machine and list its pros, cons, features, and alternatives.
So, let's get started:
Ninja CM401 Specialty Coffee Maker Overview
The Ninja CM401 is a unique and innovative coffee maker that does more for what it's worth. It comes with its unique milk frother that is able to make a range of milk-based beverages. It has 4 different brewing styles that cater to any type of coffee drinker especially if you like cold brew. Since it uses a glass carafe, the machine uses heating plates and also comes with a descaling function for cleaning your machine. The Ninja CM401 is large in size for the average coffee maker but is designed to make it easy to program and customize your coffee beverages.
Pros
Adjustable brew sizes and brew options: This coffee machine has up to 4 different brewing styles whether you're needing a refreshing cold brew or even an espresso-like beverage. It also comes with up to 6 brewing sizes meaning that you can brew coffee in practically any carafe.
Smart heat plate: What is great when ordering this coffee machine with a glass carafe is that it comes with a smart heating plate. This function will keep your coffee brew warm in a carafe, mug, or glass for a really long time.
Easy cleaning and descaling process: The Ninja Specialty Coffee Maker requires only a mix of water and vinegar to descale the machine. It's dishwasher safe and only needs a few wipes on the exterior for cleaning the overall machine.
Smart scheduling brewing system: Having to wake up and start up the coffee machine for brewing can feel time consuming when rushing to get ready. With its scheduling system, you can set the machine to brew coffee automatically at any time.
Comes with a permanent filter: Most coffee machines require you to replace the water filter every now and then. But the Ninja Specialty Coffee Maker comes with a permanent filter meaning that there is no need for a replacement ever.
Cons
Large carbon footprint: The Ninja Specialty Coffee Maker is definitely not the smallest and compact machine on the market. You will need a bit of counter space for this machine to fit comfortably in your kitchen.
Small level of programmability: IIn terms of programmability, the Ninja Specialty Coffee Maker does not come with many programmable options. You can't really adjust the brewing strength nor a customizable brewing size but it does have set brewing options.
Cannot brew tea beverages: The Ninja Specialty Coffee Maker can make a range of brewing styles but unfortunately cannot brew tea like the Ninja CP307 Coffee Maker. But if you are not a fan of tea then this shouldn't concern you.
Ninja CM401 Features
Overall Design
The Ninja CM401 Specialty Coffee Maker has by far the most unique coffee maker design I have seen before. The brewing process is separate from the actual machine and is supported by extended bars on the side. The water reservoir is also transparent and placed outside the machine in order to see how many cups of coffee you are brewing. It also has a neat little interface beneath the water reservoir which makes it simple to operate and choose your brewing style.
Build Quality
I must say that the Ninja CM401 does not look sturdy from a first impression but surprisingly is. It is made mostly of quality stainless steel and has bits of ABS plastic around the machine which is a bit noticeable. The carafe is made of glass which means that it is not a thermal carafe. But the upside to this glass carafe is that it comes with a heating plate for the carafe to sit on.
Size and Capacity
I will say that the Ninja CM401 is quite a large coffee maker compared to other automatic pour-over coffee makers. It weighs approximately 13.4lbs and its dimensions are 12×8.8×15 inches. It is tall which means you may not be able to fit it snug on a small kitchen counter space.
The Ninja CM401 is able to hold up to 10 cups of coffee which is actually more than enough when brewing for groups of people. Even though this machine is larger than others, it is quite compact when comparing it to other 10 cup coffee makers.
Milk Frother
The Ninja CM401 has a neat foldable milk frother. I wouldn't say it's the best frother in the world but it definitely does the job. Both the milk and steam come out the frother like with most manual coffee machines which will require a wipe down after every use.
In terms of milk texture quality, the milk frother does a decent job with its foaming texture. If you have ever used a Nespresso machine with a milk frother, then expect the same sort of outcome.
Brewing Sizes
What's great about the Ninja CM401 is that it has up to 6 adjustable brewing sizes:
Small cup: 9.5 ounces
Large cup: 11.5 ounces
Travel cup: 14 ounces
Extra large travel cup: 18 ounces
Half a carafe
Full carafe
To control and adjust the brewing sizes, you'll need to use the large dial on the machine to do so. This is fairly simple and is also unique as not many coffee makers can adjust the brewing sizes.
Brewing Settings
The Ninja CM401 has up to 4 different types of brewing options:
Classic Brew: This function is your basic brewing function for automatic pour-overs. It will brew a normal cup of black coffee that is not too strong but not too weak. This function is ideal if you love your usual black drip coffee.
Over Ice Brew: If you're like me and love a black coffee over ice on a hot summer's day then this is a feature for you. There are not many coffee machines that have a cold brew function which is why this machine is so unique. Make sure to place ice in your carafe and this machine will adjust the right settings for your iced coffee.
Rich Brew: This feature is ideal for caffeine lovers who want a caffeine kick to start off the morning. You should expect a stronger and more robust coffee taste with your dripped coffee when using this feature.
Specialty Brew: This feature is able to mimic the shot of espresso for people who regret not buying an espresso machine. I wouldn't say that it tastes exactly like espresso as you are using pour-over coffee but it is as good as it gets and is still an excellent feature to have.
Reliability
Ninja is a very reliable brand in terms of manufacturing its coffee makers and providing good servicing. This machine has a great build quality and will take years before it has to give in. It's not the newest product on the market but is still being sold out which shows how trusted this coffee maker is.
Cleaning and Maintenance
The Ninja CM401 is very easy to clean and maintain. Since it's made of stainless steel, you'll need to wipe down the exterior parts of the machine at least once a week. When needing to clean the glass carafe, you can just wipe it down with a damp cloth, however, you can also place it in the dishwasher if it gets really dirty.
In terms of maintenance and its reliability, Ninja is a trustable brand which means you can rely on its servicing if needed. If taken care of you won't need much servicing and all you need to do twice a month is descale the machine with its descaling function.
Alternatives To The Ninja CM401
Upgrade Alternative
The reason why I say that the Ninja CP307 is an upgrade to the Ninja CM401 is that it also has a separate tea basket for brewing herbal teas. It has 5 brewing styles which are more than the Ninja CM401 and has up to 6 adjustable brewing sizes too. The Ninja CP307 comes with a thermal carafe instead of a glass carafe which means you won't need to use heating plates. This machine is very similar to the Ninja CM401 but if you want a machine that can also make herbal teas then this one's for you.
---
---
Budget Alternative
The Ninja CM401 can be expensive if you are on a low budget and that's why there should be an alternative. The Cuisinart DCC-3200P1 is the best budget alternative coffee maker to the Ninja CM401. This machine has a self-cleaning function, 4 adjustable brewing settings, and you can select your type of brewing strength. The Cuisinart DCC-3200P1 coffee maker brews a superb cup of coffee so if you're on a budget and not concerned about a milk frother then this is a great alternative.
---
---
De'Longhi Coffee Maker & Espresso Machine
Espresso Alternative
The De'Longhi Coffee Maker & Espresso Machine is a great alternative to the Ninja CM401 if you are an espresso purist. The Ninja CM401 has a specialty brew function that is able to mimic the shot of espresso but unfortunately, it's just not the same. This machine has a 20-hour programmable timer, a digital touchscreen, milk frother, and a brew strength setting. Everyone loves a pour-over coffee maker but if you want to add an espresso function to it then this De'Longhi is a great alternative.
---
---
Frequently Asked Questions
Does the Ninja Specialty Coffee Maker need filters?
The Ninja Specialty Coffee Maker does need a filter but it is permanent. This means that you won't ever have to replace your water filter which is very convenient considering no one wants to keep replacing filters.
Can Ninja Specialty Coffee Maker make espresso?
The Ninja Specialty Coffee Maker is not a true espresso machine meaning it cannot make a true espresso shot. However, this machine can make a pseudo espresso that mimics a true espresso.
How to clean Ninja Specialty Coffee maker?
The Ninja Specialty Coffee Maker will require you to wipe the exterior parts and descale them with water and vinegar. If your glass carafe needs a proper clean then you can just place it in the dishwasher as it is dishwasher safe.
The Verdict
The Ninja Specialty Coffee Maker CM401 is a great product and is suited for anyone who wants an all rounder coffee machine.
With its 4 unique brewing functions that can make cold brew coffee and pseudo espressos, it can practically make any type of coffee beverage.
However, if this machine doesn't fit your needs then there are alternatives to this coffee maker that may be better suited for you.
If you are looking for more coffee makers like this then make sure to look at our best coffee machines under $400.
---
---