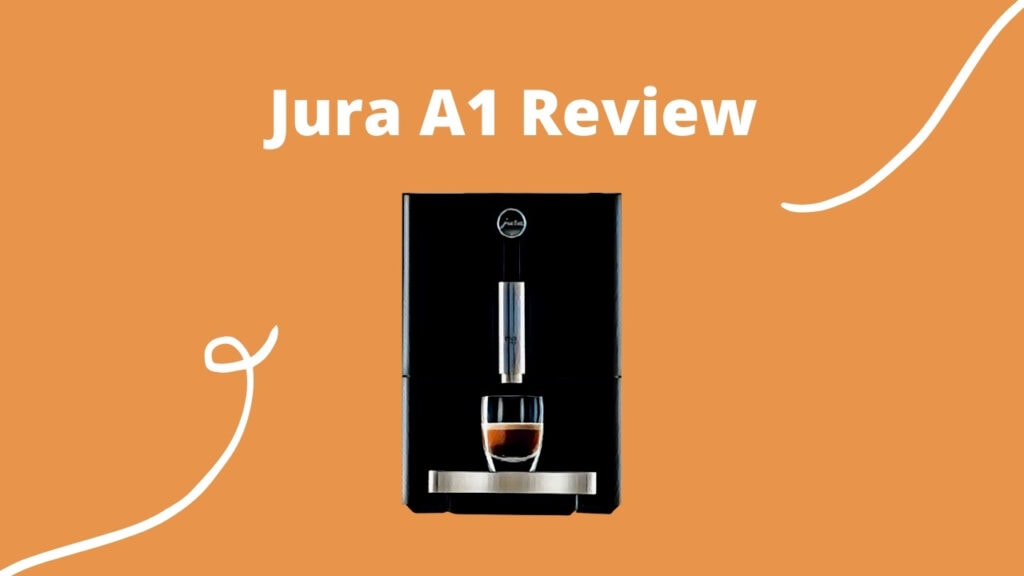 Here is everything you need to know on our Jura A1 review.
Jura A1 Summary
Summary
The Jura A1 is an impressive entry-level espresso machine that is perfect for brewing non-milk-based beverages. You are going to get top-notch Jura espresso quality that is consistent and flavorful. However, if you're looking for more functionality and a wider range of beverages, you may want to consider another machine.

The Jura A1 is considered to be the most premium entry-level espresso machine in the market. With its high-quality espresso shots and small compact design, this machine is ideal for a minimalist.
In this review, I will discuss the overview, specifications, pros and cons, features, and alternatives of the Jura A1. There are a few downsides but many upsides to this machine which will influence your final buying decision.
Jura A1 Overview
The Jura A1 is the entry-level model espresso machine of the Jura line. It has a stylish minimalistic design to it and is perfect for an espresso purist.
The main aim of this machine is to provide a convenient, hands-free experience for the user by using Jura's latest brewing technology.
The Jura A1 makes a superb milkless beverage and comes with a high level of programmability for each beverage.
Its small and compact machine allows for the Jura A1 to be eco-friendly by having an incredibly low carbon footprint.
Jura A1 Specifications
| Specification | Description |
| --- | --- |
| Pulse Extraction Process (P.E.P.®) | ✔ |
| Variable brewing unit | 6-10g |
| Grinder | Aroma G3 Grinder |
| Thermoblock heating system | 1 |
| Intelligent preheating | ✔ |
| Powder chute for ground coffee | ✔ |
| Programmable and individually adjustable coffee strength (Levels) | 2 |
| Display | Symbol display |
| Number of speciality coffees | 3 |
| Integrated rinsing, cleaning and descaling function | ✔ |
| Monitored drip tray | ✔ |
Jura A1 Review: Specification Table
Jura A1: Pros and Cons
Pros
Small and compact machine: The Jura A1 weighs approximately 20.3 lbs with a width of 9.4 inches which means it will be able to fit any kitchen counter space.
Comes with new Jura technology: The Jura A1 comes with the all-new Aroma G3 grinder and Pulse Extraction Process technology for optimum brewing quality.
Can grind or use pre-ground coffee: This machine has a powder chute and Aroma grinder which will allow you to use both whole-bean coffee and ground coffee.
Reliable entry-level model machine: Most entry-level espresso machines are not going to be robust and last you for a lifetime. With any Jura, you'll be able to experience excellent and consistent brewing quality for over years.
Environmentally friendly: Due to the Jura A1 having a small carbon footprint and Zero Switch Off Technology, the energy consumption is significantly lower than other machines.
Easy to clean and maintain: The Jura A1 comes with a CLEARYL blue filter which will filter and keep the water clean which means you won't have to ever use a descaling solution.
Is very quiet: With the new Aroma G3 grinder, the Jura A1 grinds beans precisely and quietly which is great for when you're trying to watch tv and brew espresso.
Cons
No touchscreen digital display: For an expensive entry-level espresso machine, it does kinda suck that this machine does not have a digital display. Unfortunately, this machine only comes with symbol displays.
Expensive for an entry-level espresso machine: If you are looking for an entry-level machine and are on a low budget then I recommend looking at another espresso machine.
However, if you are all about espresso quality then the price should not affect your buying decision.
Small water and bean hopper capacity: The Jura A1 is just more than half the size water capacity of the Jura E8 which means you're not going to get as many espresso shots per water tank.
Does not include a milk frother: If you're into milk-based beverages then the Jura A1 is not going to be for you. It does not come with a milk frother meaning that you'll have to purchase a separate frother or learn to enjoy black coffee.
Jura A1 Features
Design and Build Quality
The Jura A1 is a minimalistic and sleek design covered with bits of silver trimming. This machine comes in both a piano black and white color which will both look great in your kitchen household.
What is great about the Jura's design and sizing is that it can fit on almost any counter space. It weighs just over 20 pounds, has a height of 12.7 inches and a width of 9.4 inches.
In terms of build quality, the Jura A1 is made of high quality plastic as well as stainless steel.
Some people may be annoyed at the fact that this machine and most Jura's are made mostly of plastic but it does feel very premium.
However, the chrome brewing spout and drip tray add to the premium feel to the machine.
So when it comes to overall build quality, the Jura A1 is solid and robust regardless of the plastic build and does give that premium aethstetic feel.
Grinder
The Jura A1 has the all new Aroma G3 grinder which is faster and more efficient than the previous Aroma G2 grinder.
The Aroma G3 is an integrative conical burr grinder which allows you to adjust the coarseness and fineness of the ground coffee.
This is Jura's latest grinder and all of the new models including the Jura E8 and Jura Z10 come with the Aroma G3 grinder.
Programmability
When it comes to the Jura A1's programmability, it is very simple and does not have a high level of programmability.
However, you are able to make small adjustments to your beverage with its 2 grind levels, dose, and cup size levels.
The Jura A1 comes with an intelligent preheating feature which allows for instantly hot coffee from the first cup. It also comes with 1 thermoblock system which will allow for short heat-up times if you're planning on making a quick beverage.
Display
The Jura A1 comes with a symbol text display which only allows you to see symbols of functionality and also displays any maintenance alerts.
The cup size icons will illuminate and flash red when either being in use or if there are any errors.
An example would be if the bean hopper or water tank symbol flashes indicating that these need to be refilled or if there are any other alerts.
Energy Saving
Espresso machines can use a lot of electricity, especially when it comes to high end machines.
The one advantage of the Jura A1 compared to other Jura models is that it is one of the best models when it comes to energy efficiency sitting at 40 kilowatts per hour.
The Jura A1 comes with an energy-saving mode that allows the machine to conserve as much energy as possible when the machine is not in use.
The machine will automatically switch off after 30 minutes and you can increase the time to up to 2 hours.
Sizing and Dimensions
Here are the Jura A1's following sizing and dimensions:
| Dimension | Jura A1 |
| --- | --- |
| Height (inches) | 12.7 |
| Depth (inches) | 17.5 |
| Width (inches) | 9.4 |
| Weight (lbs) | 20.3 |
| Height adjustable coffee spout (inches) | 2.3 – 5.6 |
| Water tank capacity (oz) | 36.8 |
| Bean hopper capacity (oz) | 4.4 |
Jura A1 Dimensions Table
Cleaning and Maintenance
The best thing about the Jura A1 and all other Jura models is that they are very easy to clean, descale, and maintain.
This is one of the main reasons why people prefer Jura machines as they are built to last you a lifetime with its automatic cleaning functions.
The Jura A1 comes with both a monitored drip tray and an integrated rinsing, cleaning and descaling program.
One cool feature about the Jura A1 is that it will self clean the machine after every 180 cups of coffee brewed.
When it comes to the manual part of cleaning your coffee machine, make sure to wipe down the exterior parts of your machine daily so that no water residue or dust seeps into the machine.
Alternatives To The Jura A1
De'Longhi Dinamica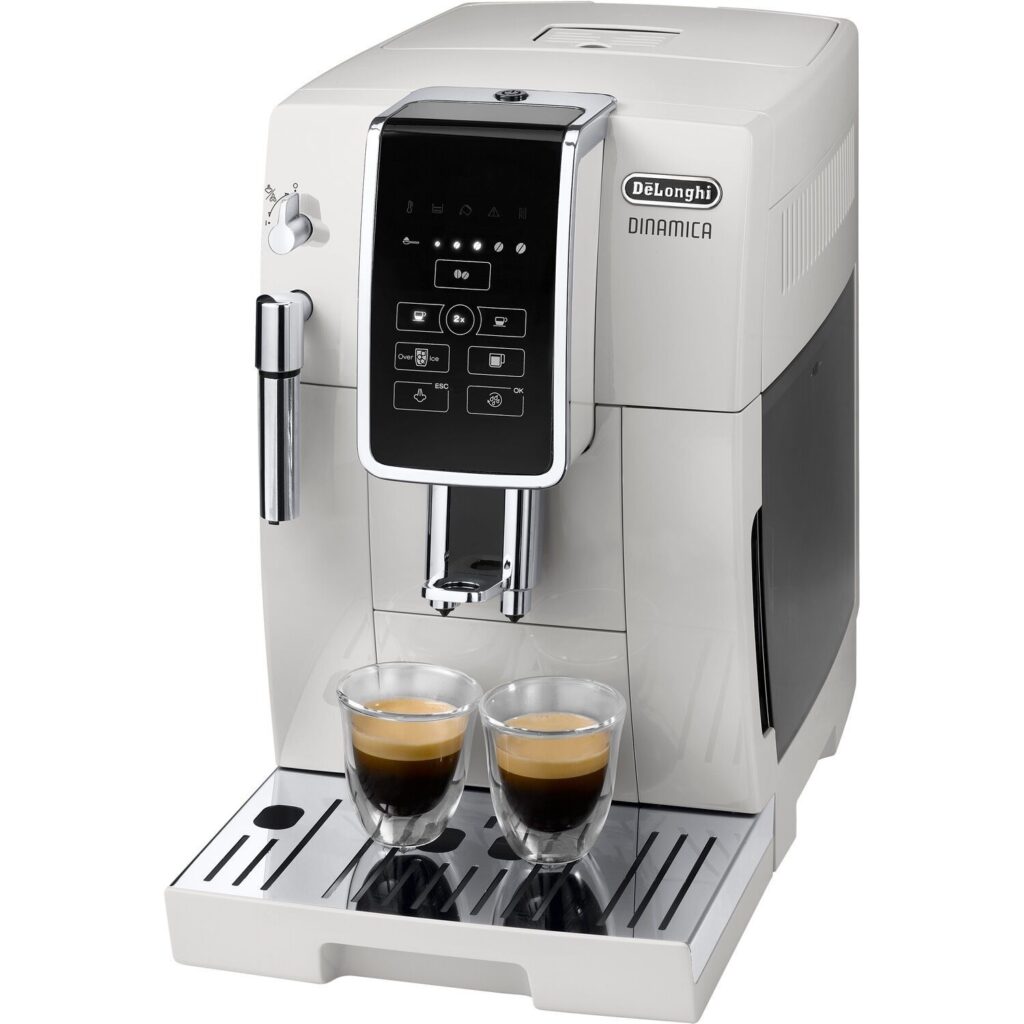 Best Premium Alternative
The De'Longhi Dinamica is considered to be a more 'premium' alternative as it comes with a more intuitive digital display.
Both the Jura A1 and De'Longhi Dinamica range at similar prices but are different in some aspects.
For example, the De'Longhi Dinamica comes with a milk frother and has a cold brew feature.
However, if you're looking for a bit more programmability, the De'Longhi Dinamica has up to 5 coffee strength levels, 4 brew tamp levels, and 13 different grind settings.
---
---
Breville Barista Pro
Best Semi-Automatic Alternative
If you've read this review and found that you may prefer a semi-automatic bean-to-cup machine then the Breville Barista Pro will be your best alternative.
The Breville Barista Pro is one of the only semi-automatic espresso machines that have an intuitive interface with a high level of programmability.
It comes with control grinding, adjustable shot sizes, and microfoam milk texturing.
Another advantage to this machine is that it is built from brushed stainless steel whilst the Jura A1 is made of mostly high quality plastic.
---
---
Jura D6
Best Jura Alternative
The Jura D6 is one of the most favored Jura machines by customers as it is great for its value for its large sizing and capacity.
What makes the Jura D6 better than the Jura A1 is that it can brew more beverages per water tank as well as milk frothing functionality.
The Jura D6 has a plain text display instead of just a symbol display making it slightly easier to operate.
With the Jura D6, you're still going to get that Jura brewing quality but with slightly more functionality than to the Jura A1.
---
---
Jura A1: The Verdict
If you're looking for a high-end espresso machine that purely focuses on brewing superb black coffees, then the Jura A1 is going to be your best buy. The Jura A1 is also sleek, compact, and robust which means that it will last you for decades if taken care of properly.
However, the Jura A1 is not for everyone and if you were hoping to have a machine that brews milk-based specialty drinks, this machine is not for you.
I personally think that purchasing a machine with an integrated milk frother will save you trouble in buying additional parts for a machine like this.
Overall, the Jura A1 is still a Jura and you're going to be purchasing this machine for high quality espresso shots.
It's a great price for its value if you consider the lifetime of this machine which is why I think the Jura A1 is worth it.
---
---
If the Jura A1 is not what you expected it to be, make sure to read our review on the Jura Micro 9.