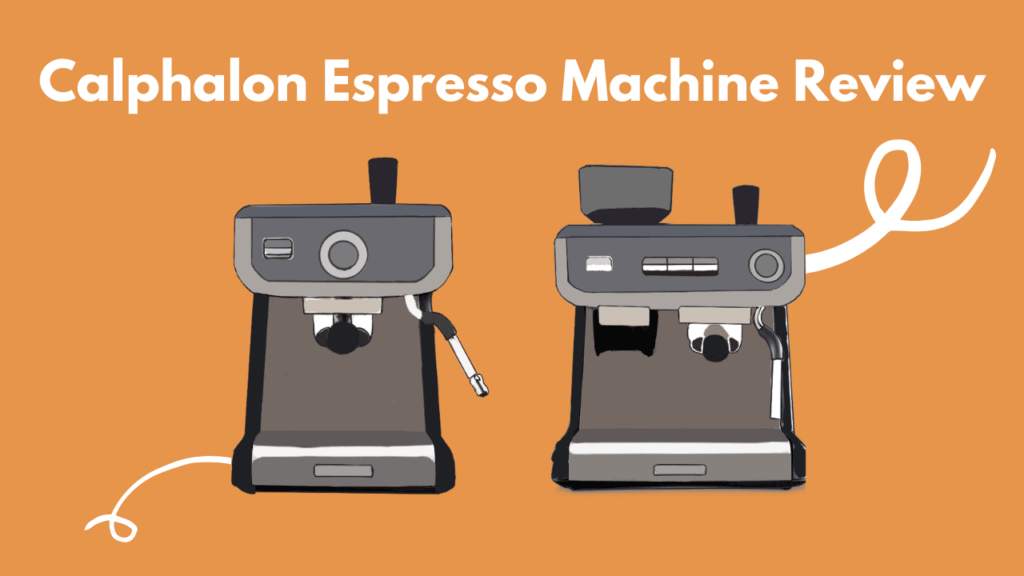 Here is our Calphalon espresso machine review.
Calphalon is a popular brand for its kitchen accessories and they have finally come out with its new Temp IQ espresso machine.
I found the Calphalon espresso machine to be one of the best premium compact espresso machines. This machine is considered a direct comparison to the Breville Barista Express. For more semi automatic espresso machines, check our guide here.
In this review I will be listing this product's pros and cons, key features, and alternative espresso machines that may be better suited for you.
So, let's get started:
Calphalon Temp IQ Overview
The Calphalon Temp IQ is an affordable yet premium-end semi automatic espresso machine. With its small, sleek, and compact design, you can fit this machine practically anywhere in your kitchen and will never look out of place. It has amazing brewing quality with its stainless steel finish dual spout, and cafe-quality steam wand. It has a large water and bean hopper capacity meaning that you won't need to refill beans and water for a while after brewing your beverages. In terms of its overall features, it is simple but has all the basic features such as its conical burr inbuilt grinder.
Pros
Sleek stainless steel design: Most of the machine's parts come in a dark grey stainless steel finish which will fit well in any kitchen. Most espresso machines have a light silver color but I really do enjoy a dark silver color instead.
Dual brewing spout: The best thing about a dual brewing spout is that you can either brew 2 shots of espresso or brew a double espresso shot in half the time. This will save you a lot of time as brewing one espresso shot can take 30-60 seconds.
Amazing brewing quality: Both the Calphalon Temp IQ and Temp IQ with grinder brew amazing espresso quality. It uses gentle pre-infusion blooms to get the most extraction out of the grounds.
Affordable: When considering the Calphalon's price and its features, it isI definitely worth its price. There aren't many compact espresso machines like this other than the Breville Barista Touch. They both have amazing brewing quality and all necessary features.
Larger water tank capacity: What really impresses me about the Calphalon espresso machine is that it has a large water tank capacity. It's almost a 1/3 larger than the Breville Barista Touch which makes a big difference when brewing beverages frequently before refilling.
Cons
Some parts are made of plastic: The Calphalon espresso machine is made of high quality stainless steel but there are some bits of plastic built around the machine. It doesn't look bad at all however you'd expect a premium-end espresso machine to be fully made of stainless steel.
Average grind consistency: Don't get me wrong, the Calphalon does make a great shot of espresso. However, I find that its conical burr grinder does not quite live up to its standards for how much the machine costs. It has a good grind consistency but there are separate grinders that beat the Calphalon's grinder.
Features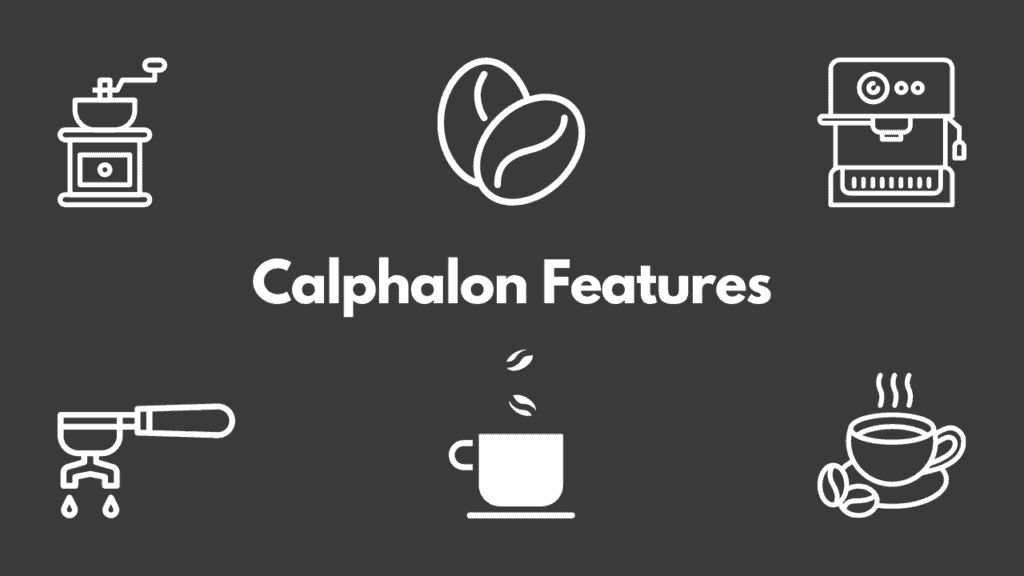 Here are Calphalon Temp IQ's necessary features including design quality, the grinder, the brewing spout and more
Design
The Calphalon Temp IQ is made of high quality stainless steel but does have small parts of plastic around the machine. It comes with a built-in conical burr grinder, a stainless steel portafilter and milk pitcher too. Both the Temp IQ and Temp IQ With Grinder are surprisingly small and compact. Compared to other semi automatic espresso machines, these two will easily fit your counterspace.
In terms of ease of use, the Calphalon is very simple to operate with its 4 one touch buttons and steam/hot water dial. This espresso machine isn't the most programmable espresso machine but you can adjust the grind size for your espresso shots.
Grinder
Calphalon's conical burr grinder can grind your coffee beans at 30 different grind sizes which will allow you to perfect your shot of espresso. The grounds get poured through the opening on the left side of the machine into your portafilter to use.
Brewing Spout
The Calphalon uses a dual brewing spout which will allow you to brew 2 espresso shots at the same time. The Calphalon brews at a reasonably quick time and in terms of brewing quality, it produces a thick rich crema too.
Pre-Infusion Technology
Pre-infusion occurs when the coffee grounds are soaked before the actual brewing process starts. With pre-infusion, the espresso machine will be able to extract the majority of the ground flavors to get that rich espresso shot.
Thermoblock Heating Technology
Thermoblock Heating Technology uses PID temperature control which is a fancy term for saying that the espresso machine will prevent the temperature from changing during the brewing process. But this technology will help keep the brewing temperature stay as consistent as possible.
Water Reservoir
The Calphalon comes with a 90 ounce water reservoir capacity which is huge compared to other espresso machines like the Breville Barista Touch. This will be convenient when brewing a lot of espresso shots in the day because you probably won't need to do any refilling.
High Pressure Pump
The Calphalon uses an Italian 15 bar pressure pump which will be able to produce the perfect extraction and optimum flavor for espresso. Its 15 bar pump will mean that this machine can brew at 10-11 bars of pressure which is actually the ideal pressure when brewing a strong espresso shot.
Milk Frother
Many people have agreed that the Calphalon has a cafe-quality steam wand. It produces a rich, creamy texture that makes it much easier to create latte art for your espressos. The Calphalon's milk steaming is arguably its best feature. What sets it apart from other competitors is that it produces a super fine microfoam texture that most machines can't do.
Cleaning and Maintenance
In terms of daily cleaning, the Calphalon is very simple to clean. It won't take you long to wipe down the machine as it is small and compact in size, and the descaling process will only take you about 10 minutes.
Calphalon is a very well known and trustworthy brand. So when you need to take your machine in for a service, you shouldn't have any trouble getting this machine repaired. It is a very sturdy machine and is built well which means that you rarely need to take it in for a service if cleaned and maintained properly.
Alternatives To The Calphalon Espresso Machine
Here are alternatives to the Temp IQ espresso machine. You may find that these espresso machines may fit better to your preference instead:
Premium Alternative
The Breville Barista Touch is a great premium alternative to the Calphalon. The Barista Touch comes with an all new digital touch screen where you can do all your programming and beverage customization. It has a 67 ounce water tank capacity and ½ lb bean hopper capacity which are smaller than the Calphalon.
The Barista Touch will allow you to choose up to 5 different speciality drinks and 8 customizable coffee settings. The Barista Touch and Calphalon are quite similar but if you're a Breville fan and want a digital display then this is a great alternative.
---
---
Budget Alternative
The Gevi 20 Bar is a great budget alternative espresso machine to the Calphalon. It may not have a built in grinder but it does make a decent shot of espresso for its price. Other features that the Gevi 20 Bar include are its advanced thermoblock heating system, 3 adjustable shot sizes, and cup warmer.
What makes this machine stand out is its high pressure pump system which is actually better than the Calphalon. It's high pressure pump system will brew hotter and better quality espresso shots. If you are on a budget then Gevi 20 Bar is a great high quality espresso machine to consider.
---
---
Pod-Based Alternative
If you're not a fan of tamping your own grounds then the Nespresso Creatista Plus is the best pod-based alternative to the Calphalon. It has a digital display touchscreen like the Breville Barista Touch. This makes it much easier to choose between different speciality drinks.
What I love about this small, nifty machine is that you can choose between an espresso, ristretto, lungo, cappuccino, flat white, latte macchiato, and hot water. This machine is Nespresso's higher end espresso machine meaning it comes with a price but is worth it if you want to alternate between coffee pods.
---
---
Frequently Asked Questions
Who makes Calphalon Espresso Machines?
Calphalon makes Calphalon Espresso Machines. Calphalon makes both the Temp IQ and Temp IQ With Grinder espresso machines.
Where are Calphalon espresso machines made?
Calphalon Espresso Machines are designed in the USA and are manufactured in China.
How to clean the Calphalon espresso machine?
Cleaning a machine like the Calphalon espresso machine is fairly simple:
You will need to clean your temper and portafilter regularly and wipe the exterior parts down after use.
Make sure to clean the machine if descaling is needed using descaling solution.
If you're using the milk frother then you must clean it straight after use so that there's no milk residue left inside the steam wand.
The Verdict
The Calphalon Temp IQ is one of the most impressive semi automatic espresso machines. It has amazing brewing quality, a sleek stainless steel design and superb milk foaming.
If you are someone who wants a premium espresso machine then this is a great espresso machine to consider. You can either purchase the Temp IQ or Temp IQ With Grinder depending on your personal preference.
Calphalon Temp IQ
---
---
Calphalon Temp IQ With Grinder
---
---