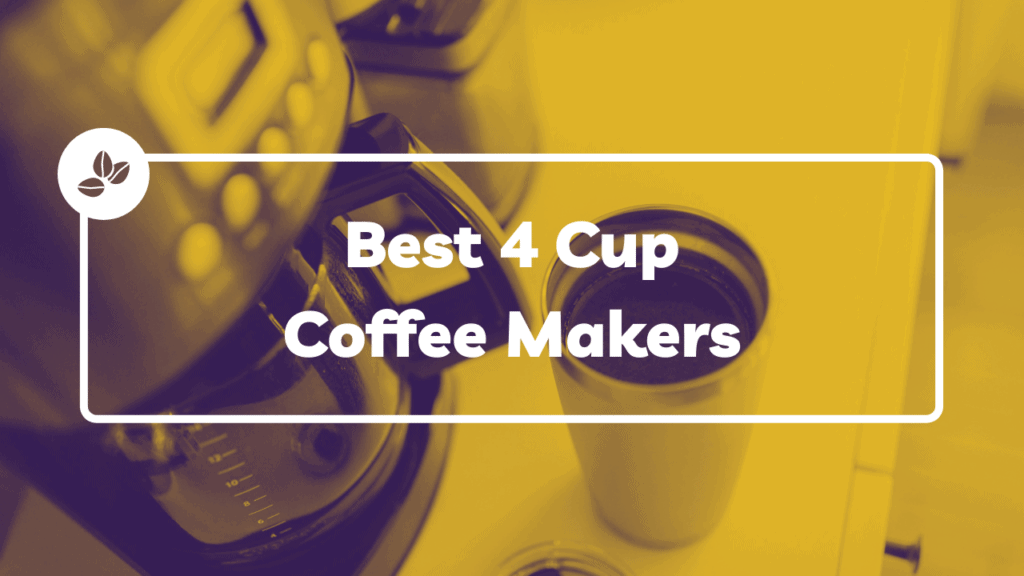 This is our review on the Best 4 Cup Coffee Makers in 2021.
Coffee makers are great products to have in the kitchen. Whether you're a coffee or tea addict, coffee makers are great for making both types of drinks.
I highly recommend purchasing one of these coffee makers if you want to make quality coffee. These coffee makers are great for people who don't feel like blowing a hole in their wallets on some fancy espresso machine.
This list comprises 5 of the best drip-maker-based coffee makers. Some of these coffee makers are 5-cupped which you should perhaps consider if you prefer to have larger cups of coffee.
I found that the Braun Brew Sense Drip Coffee Maker is the best overall coffee maker on this list.
Every person is different. Some people don't need a fancy coffee maker but instead a simple and inexpensive machine. So I've included coffee makers for people who are looking for the best overall, best for value, and best for budget.
So let's get started!
Our Best 4 Cup Coffee Makers
5 Best 4 Cup Coffee Makers Reviewed
All coffee makers in this list have been reviewed in full detail and are all considered Amazon's best coffee makers on the market. I am completely unbiased to any of the coffee makers and aim to give ups and downs to each product.
Brewing time: 4-5 min ⏰
Brand: Braun
Model: Brew Sense
Capacity: 4 Cups
Material: Stainless Steel and Plastic
Color: Black and Silver
Weight: 7.1lbs
Wattage: 1000 watts
Key Feature: Self-cleaning and water pressure selector
Pros:
Brew pause function
Anti-drip system
Quick brew time
Brew strength selector
Programmable timer
Quality coffee extraction
Cons:
Expensive
Difficult to access water reservoir
Can be confusing to use
The best overall coffee maker goes to the Braun Brew Sense Drip Maker. If you're the type of person who loves cool additional features then I recommend purchasing this coffee maker. The key feature is its self-cleaning function which can even set the pressure of your water. Other fancy functions include a coffee brew strength selector, auto shut-off, temperature selector, and a programmable timer to set your brewing time.
I can say that the only downside to this coffee maker is that it is quite expensive for the average consumer. If you're on a budget then I do consider perhaps looking at the Mr. Coffee or Cuisinart coffee maker.
What I'd also like to point out is the brewing quality of this machine. The Braun makes a great cup of coffee and I think with quality, it's tied down between the Bonavita and Braun coffee maker.
---
---
Brewing time: 6 min ⏰
Brand: Bonavita
Model: 5-Cup-One-Touch
Capacity: 5 Cups
Material: Stainless Steel
Color: Grey/Black
Weight: 5lbs
Wattage: 1100 watts
Key Feature: One button for all functionality
Pros:
Great temperature control
Very simple to use
Great quality coffee
Pre-infusion mode
Good quality build and design
Cons:
Pricey
Difficulty pouring out the carafe
High electricity usage
There's a reason why this coffee maker is the priciest out of the bunch. This german machine is known for its impressive temperature control. This helps keep your coffee consistently between 195℉ and 205℉. Its one-touch brew option is a huge time saver as you can run the machine while getting ready for work and grab your coffee just before you leave.
This model really does brew superb quality coffee. It's probably the reason why Bonavita suggests using paper filters instead of a permanent filter. As said in our buyer's guide, paper filters tend to enhance the flavor and prevent floating grounds in the coffee.
When it comes to power usage, the model definitely uses the most power out of the other coffee makers on this list. This model uses a whopping 1100 watts of power which is considerably high. If you are all about saving electricity then I recommend checking out one of the other coffee makers on this list.
---
---
Brewing time: 6-8 min ⏰
Brand: Zojirushi
Model: EC-DAC50 Zutto
Capacity: 5 Cups
Material: Plastic
Color: Silver
Weight: 9lbs
Wattage: 650 watts
Key Feature: Great carafe design
Pros:
Easy to pour coffee from carafe
Easy to clean
Small and compact design
Cheap maintenance costs
Great quality coffee
Ideal brewing temperature
Cons:
No auto shut-off
Takes a while for coffee to brew
No beeping noise when coffee is brewed
The Zojirushi Zutto is an excellent choice if you are looking for a premium yet small and compact coffee maker. What really stands out for me is the design of the carafe. There are a few machines that have a carafe that holds 5 cups and is easy to pour.
The downside to this machine is that it does not have an auto shut-off function. This may be an issue if you're forgetful like me. So forgetting to turn it off will keep the machine's warming plates running which can be a problem. But if you are not a forgetful person then it shouldn't be a problem.
Other than its downside, I think the coffee machine's pros definitely outweigh the cons. The majority of people rave about the quality of coffee and find it very easy to clean. So if you have little space in the kitchen and want a small premium compact machine, the Zutto is the way to go.
---
---
Brewing time: 6-7 min ⏰
Brand: Mr. Coffee
Model: 5-Cup Mini
Capacity: 5 Cups
Material: Plastic
Color: Black
Weight: 1.56lbs
Wattage: 600 watts
Key Feature: Timer and auto shut-off
Pros:
Programmable timer
Affordable
Auto shut-off
Stainless steel heat plates
Small and compact design
Cons:
Plasticy
Takes long to brew
Temperature control isn't great
The Mr. Coffee 5-Cup Mini is by far the best budget coffee maker on this list. In fact, this coffee maker is probably one of the smartest products out of the 5. It has a 2-hour auto shut-off function as well as a timer to set the clock when you want to brew your coffee. Another great feature of this product is that it has a digital clock on display 24/7.
If you're someone who's all about a premium-looking coffee maker then I recommend looking at either the Zojirushi or Bonavita. The 5-Cup Mini is unfortunately made entirely of plastic but on the good side, it does have an all-black glossy-looking finish.
Some people struggle to find 5 cup filters but if you can't find any 5 cup coffee filters then 4 cup filters work fine. I highly suggest considering this product if you are on a strict budget and want a near-hands-off coffee maker experience.
---
---
Brewing time: 8 min ⏰
Brand: Cuisinart
Model: 4 Cup Coffee Maker
Capacity: 4 Cups
Material: Stainless Steel
Color: Black
Weight: 3.25lbs
Wattage: 550 watts
Key Feature: Brew pause function
Pros:
Brew pause feature
Auto shut-off
Little power-usage
Affordable
Cons:
Takes long to brew
Little functionality
Warming plates shut off too soon
If you're looking for a simple and budget-friendly coffee maker then the Cuisinart is another great choice. The feature that stands out for me is that it prevents any water from dripping out after pulling out the carafe. I know it seems like a stupid thing to care about but most coffee makers usually have water dripping out after brewing…
Many customers have complained that the machine takes longer than usual to brew and that the warming plates shut off too soon. If you're not bothered by wanting boiling hot coffee then it shouldn't be an issue.
Another pro to this coffee maker is that it uses way less power compared to the other products on this list. I also like the fact that it's relatively cheap and has an auto shut-off feature, as well as a brew-pause function.
---
---
Buyer's Guide
Before deciding to purchase your 4 Cup Coffee Maker, it's always best to consider a few factors that will affect your final buying decision. Some may want a 'teched-out' coffee maker while others may want a simple yet convenient coffee maker:
Convenience
I think it's fair to say that nearly all people strive for convenience. When it comes to purchasing a coffee maker, people want an easy-to-use machine that's small in size and easy to clean. If you are all for convenience regardless of the price, then I recommend looking at the more expensive range. Usually, the more expensive coffee makers aim to give you a near hands-off experience compared to the cheaper models.
Size of Carafe
The size of the carafe is an important aspect to consider. Seeing that you are on this page to look for 4 cup coffee makers, the coffee makers here are all 4 cupped or more. Before deciding on any of these coffee makers. It's important to know how much coffee you're planning to drink. If you're like me and drink heap amounts of coffee a day or perhaps have a family of 5 then I recommend purchasing a coffee maker with more than 4 cups.
Brewing Speed
If you leave for work early in the morning, then choosing a coffee maker that brews your coffee fast is necessary. I recommend purchasing a coffee maker that has an automatic start option or a timer that will remind you when your coffee is finished being made.
Brewing Temperature
It's important to make sure your brewed coffee is brewed at the right temperature. Anything over 205℉ will cause a burnt taste. Any temperature that's below 195℉ is also going to affect the taste causing the brewed coffee to be too mild and bitter.
I'm pretty sure these days most coffee makers will make sure your coffee is brewed at an ideal temperature but I think it's important to know the ideal brewing temperature.
Filter Type
Other than having an ideal brewing temperature, your filters are going to also make sure that the extract is not over or under-extracted. The coffee makers above use extraction that takes place through filtering. This will help either improve or worsen your brewing quality.
There are usually 2 types of coffee filters, a fine wire-mesh filter and paper filters. The paper unfortunately has to continuously be replaced while the mesh filters are usually permanent.
If you're an eco-friendly type of person, then permanent filters are the way to go as using paper filters creates more waste. If you care about brewing quality then I recommend using paper filters instead. Paper filters are the preferred method for brewing drip coffee. This is said by many experts as paper filters result in fewer solid particles in the mug than a permanent filter. Paper filters will help give the coffee a milder and more flavorful taste.
Consider Your Budget
Whether or not you have the cash to blow on a coffee maker, considering your budget is a must. There are many aspects that affect the price and value of a coffee maker.
For example, wire mesh filters will save you money in the long run as paper filters need to be consistently bought. It may be slightly more expensive but can be worth the investment.
You should also look at energy-saving coffee maker brands and products too. Some coffee makers tend to use quite a load of electricity which can get expensive over time.
One other aspect of a coffee maker to look at is its lifetime and maintenance costs. Depending on which countries some coffee makers are produced from, new parts and services can be very expensive for some coffee makers.
Additional Features
There are many other features that coffee makers have that will help make the final buying choice. Features for coffee makers may include a timer, energy-saving modes, auto shutdowns, a thermal carafe, and even self-cleaning units. Some people prefer to have a simple yet sleek-looking machine which is absolutely fine. But if you're a tech nerd like me then cool features are a must when choosing your coffee maker.
So make sure to consider the above features and many more before having your final choice on buying your coffee maker.
How Much Coffee Do You Need?
| Serving | Water (cups) | Regular (tbsp) | Strong (tbsp) |
| --- | --- | --- | --- |
| 1 | 1 | 1.0 | 1.0 |
| 2 | 2 | 1.8 | 2.2 |
| 3 | 3 | 2.8 | 3.2 |
| 4 | 4 | 3.6 | 4.2 |
| 5 | 5 | 4.8 | 5.4 |
FAQ
Can a coffee maker be used to make tea?
Yes, as you would brew coffee, you can also prepare tea in a countertop coffee maker. As an alternative to coffee grounds, loose tea leaves or tea bags can be put into the filter. Once the water reservoir has been filled, the carafe can be set on the warmer and the tea can steep for several minutes.
How do I clean my coffee maker?
Giving your coffee maker a clean now and then is vitally important. It will help improve your coffee maker's lifespan, prevent future servicing, and potentially kill any harmful germs living in your coffee maker.
If you'd like to learn how you can clean your coffee maker then I recommend reading my article 5 Coffee Makers That You Should Clean.
How many watts do coffee makers use?
Many full-size coffee makers consume between 500 and 1,200 watts, and the majority of that energy is used to create heat. In the brewing process, water is heated by internal warming plates, which usually sit underneath the carafe.
How much coffee do I use for 4 cups?
Preparing 4 cups of coffee will require you to use around 4 scoops or 8 tablespoons of ground coffee. If you love strong coffee like me, then I recommend pushing to 10 tablespoons of ground coffee.
Our Verdict
We recommend going with the Braun Brew Sense Drip Maker. Although it is expensive, I do believe it's a good investment for the long run and definitely will get your money's worth. It has lots of cool features and makes a great cup of coffee!
Too expensive? Not to worry, if you are on a tight budget then we recommend going for the Mr. Coffee 5-Cup Mini Coffee Maker instead. It's a decent build, it's affordable and has some pretty smart features for its price.
Make sure to read through our buyer's guide, consider your budget and decide what is the best 4 cup coffee maker for your home.